Before we kick off an amazing 2020, let's take a moment to reflect on this past year.

Our client base has grown to 68 clients this year, who together have in excess of USD 9.7 trillion of Assets under Management.
Our content team received 180 memos from aosphere and our 441 rules and 159 automated disclosure documents cover Shareholding Disclosure rules in 95 jurisdictions around the world.
We opened our new APAC office in Singapore, reached 10 employees in our New York office and increased our total number of FundAppers by nearly 60% (to 67)! We also hosted 12 community events across Europe, North America and APAC.
Following us becoming a B Corp last year, this year saw us receive a nomination for the Best for the World 2019 - Workers. This nomination placed us in the top 10% of all B Corps for our employee-friendly practices.

For 2020 we are continuing to recruit and currently have 5 open positions, two of which are for our brand new graduate programmes.
We would also like to put the spotlight on a few new features that were announced this year:
Global Company Database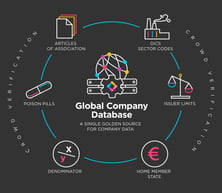 For compliance professionals around the world who constantly need to source up-to-date company information, GCD provides a single golden source of all company information, powered and verified by the FundApps Compliance Community. More here >>
Denominator Discrepancy by Issuer
The Automated Community Denominator Check (AC/DC) utilises FundApps' Client Community to highlight differences between the Denominator values (e.g. total shares outstanding, total voting rights etc.) uploaded by customers. In the latest feature update, the service is now able to quantify the differences in a customers' data relative to the FundApps community. More here >>
Kickstarter for Compliance

At our London and New York client conferences this year we ran two workshops: Sailing to Compliance Nirvana and Kickstarter for Compliance. In the latter, clients were given the opportunity to use "Dino Dollars" to vote on which features they'd like to be developed next. The winning ideas (Home Member State Data and Market Data Superstore) have been added to our Product Roadmap. More here >>
And the most popular blog posts of 2019 were:

Serious About Compliance? Don't Use Excel!
Our CEO, Andrew White, outlines 5 reasons why Excel isn't fit for purpose for compliance monitoring. More here >>



1 Year on: Parental Leave
In April we released Parental Leave 3.0. Spoiler Alert: all new parents now receive 26 weeks of paid leave, regardless of gender, location, family structure or circumstances. More here >>
Room-In-A-Name: Updated Coverage
Last year, we announced the launch of a new feature: Room-In-A-Name. This year we updated it to cover EU TDA Rules, US Sections 13 & 16 and Short Selling EU rules.
More here >>