Behind-the-scenes: an insight into the Content Team at FundApps.

Welcome to a day in the life of the Content Team at FundApps as told by Lorraine Chimbga, one of our regulatory experts. Lorraine joined the team nearly two years ago having done a Law degree for her undergrad at UCL and LSE. Together with her colleagues, Lorraine reviews complex regulation and codes the rules and algorithms into the automated compliance solutions offered by FundApps.
In the morning...
District and Central line willing, I try to get into the office between 8:30am and 9:00am and kick off the day with a cinnamon bagel and a cup or two of coffee.
I usually start by checking on any pull requests that I might have submitted the previous day on GitHub to see if the tests are passing or any further work needs to be done before it can be reviewed. Pull requests are how we submit individual revised changes to the main existing code from the Content Team.

If not, I usually check the Content Team's Waffle board where we keep track of our progress and prioritise what we are working on. I know, it's a bit misleading because I do wish we had a board of waffles this early in the morning! We do however sit down as a company for breakfast once a month featuring some lovely pastries arranged by our #queen Office Manager Hana.

On Mondays, we have our weekly Content Team meeting with the Client Services Team. Here we discuss requests from clients, our priorities for the week and assign the various tasks that have to be done. We also review the work from the previous week and how that went and if anything else needs to be done involving the software developers. After the meeting I prioritise and arrange my to-do list for the week and get a-cracking.

At the moment I am currently working on analysing the aggregation requirements in relation to different entities when complying with shareholding disclosure obligations. Depending on the analysis, I then create pull requests either updating our aggregation structures in the code, which affects how the rules run and clients disclose, or I add summarised information from the memos for clients to see in the User Interface so they don't have to read the lengthy regulations. A lot of the Content Team's work involves analysing in detail the memos from our legal provider, aosphere, and turning these regulations into software that helps large asset and fund managers monitor their disclosure obligations in over 90 jurisdictions.

As it requires a lot of concentration, I always like to have a good Spotify playlist going. At the moment this can vary from listening to the greatest Disney hits, Hamilton soundtrack, Bach, ABBA to Kendrick Lamar and SZA. Variety is the spice of life after all!

At lunch time...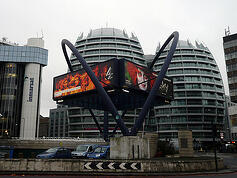 FundApps is quite social and filled with foodies, so Shoreditch is a great place for us to be and there's plenty to choose from. Sometimes, a group of us also play some lunchtime board games and in the summer, we usually head to the rooftop to have our lunch. Other lunchtime activities include our TED Talk style Brown Bag Lunches (#BBLs!). Here, anyone in the company can give a presentation on a topic relating to the work they are currently doing or a subject they are passionate about. Past talks have ranged from 'the ultimate guide to investment and your money' to 'the conquests of Genghis Khan'.
In the afternoon…
After lunch I usually continue with whatever I have prioritised for the day and if that's completed, I like to take some time to catch up with reviewing some pull requests submitted by other members of the team. If I have time, I like to take advantage of my personal development allowance in Sunlight, recently I have been taking a course on Python through Udemy. If it's a Friday, we usually finish the day with a cheeky desk beer (wine for me), living up to the tech stereotype.
There goes a general day in the Content Team: hard work, food, pull requests and a well deserved pint on a Friday!
If you want to receive monthly emails with the latest Blog and Industry News updates then sign up using the form on this page.