What will it be like working for a company that has as many employees as my old firm had in one unit? What will the culture be like - are they really as relaxed and forward-thinking as they say? What will my identity be? It's easy to know in a corporation where everyone dresses similarly...
These are only a few of the thoughts I had as I handed in my notice at a large investment bank and took the first step towards a new career at a startup. For as long as I can remember, startups have been this mythical creature where full autonomy is the norm, the CEO is not only visible but also actively involved in the day to day and more often than not, there is some sort of games console or ping pong table in the office.
Don't get me wrong, the allure of the startup was not without its calculated risk assessment. Is working for a smaller company less secure? Will I be able to adjust to this more relaxed way of working after 10 years in corporate environments? Will I need to be a different person?
The answers to those are 1) not at FundApps 2) absolutely and 3) I will, I will be me.
Life at FundApps is more than I could have ever hoped for. First of all, there's our CEO - Andrew White (Uncle A). From the top-down he promotes a culture of acceptance and teamwork. Andrew doesn't have an office, he sits on the floor with us all, there to contribute to conversations, give advice and on occasion, deliver a cracking one-liner! On more than one occasion his name has popped up in Slack to inform me of something I didn't know or where I could do something more efficiently. He pushes people to be the best they can be and wants the success of the staff to be the success of FundApps. He is the embodiment of our values: Be Transparent, Do More With Less, Work With Purpose, Have Courage and Raise The Bar.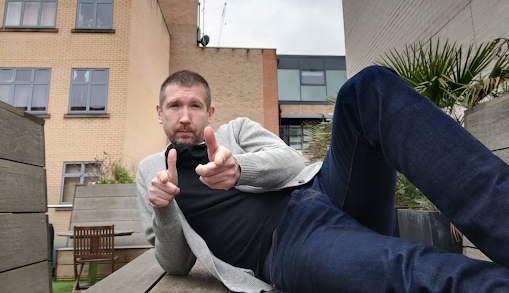 Uncle A just being Uncle A on the rooftop terrace of our new London office
From day 1 it's been easy to see the values being lived by everyone - be it the transparency by our CFO who holds periodic town halls throughout the year to walk through our financials, our Bonusly program which allows you to award points to colleagues who live the values that they can then exchange for vouchers, or our bi-weekly Friday Wins meeting where each team can announce their recent achievements and shower in the praise of our global team for a job well done! FundAppers are also encouraged to host Brown Bag Lunches (BBLs) where they can share their obscure knowledge with the whole company - some recent topics include: Food that's good for the brain, How to play poker, and How to make music.
FundApps is like a family. On my first day, I was greeted by a Slack post to the whole company announcing my arrival and welcoming me. There's no better way to instantly make someone feel involved. This was preceded by a 'Welcome to the team' call with my manager before being introduced to my buddy with whom I will be working with for the foreseeable, learning the ropes. Oh, and don't forget the huge raft of digital coffees that were organised with my colleagues globally from all teams (this was already in place pre COVID!). Each week we have new coffee meeting recommendations, keeping our networking as strong as ever and keeping the FundApps family together.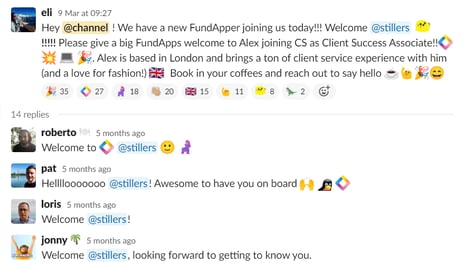 A few of the welcome messages I received on my first day
I think there is an apprehension when leaving a company you have been with for a long time; the thought that you are leaving your hard-earned knowledge behind and starting from scratch, but my advice would be if you have the right opportunity at the right time, you're not losing anything. In the 4 months that I have been at FundApps, I have pushed myself, my knowledge and left my comfort zone and as a result I have achieved great things. I continuously take on more and more responsibility, which I love, feel empowered to achieve both as an individual but also as part of the FundApps family, which I love, and I've met some of the nicest people I've ever worked with, which I love.
The moral of the story here is that you need not be scared of changing the status quo. It's only by doing things that scare you that you see what you're really made of and what you can achieve. There has not been a single day that I've second-guessed my change in career and I look forward to many more happy years aboard the good ship FundApps.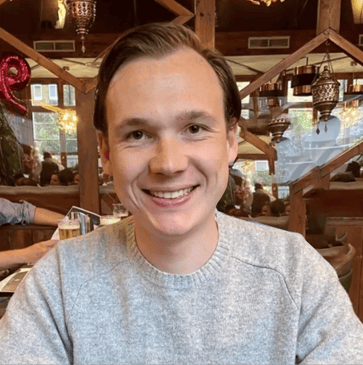 Me, Alex Stillwell ('Stillers'), Client Success Associate at FundApps
If you'd like to experience this yourself, head over to our careers page and see if your next opportunity is around the corner. I've got a digital coffee waiting for you ☕ 🙂