Software Engineer - London
Originally hailing from Zimnicea, the southernmost town of Romania, Flavia was attracted to the amazing sunshine of London and joined us in August on our Software Engineering Internship program before quickly landing a permanent gig at FundApps. Flavia and I instantly connected as fellow coffee connoisseurs (aka snobs!) and she keeps a close eye on our London office coffee supply to make sure the standard remains high! I recently had the pleasure of sitting down with Flavia to learn more about life at FundApps, the cult dance phenomenon of kizomba and why we love useless talents!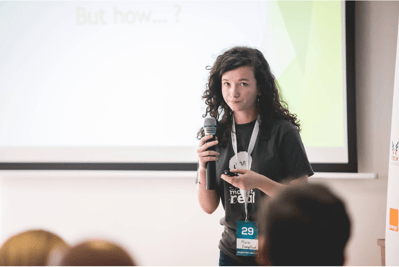 Give us some insight into what you do at FundApps
I am currently a software engineer intern, soon to be a full-time software engineer at the beginning of October. When I joined the company I first worked with the Diamonds team, having my first contact with the front-end culture. Subsequently, I joined the Hearts team focusing more on new features in the FundApps Platform as well as adjacent stand-alone services.
What are you working on at the moment?
Leaving behind the migration of rules and portfolio pages on a new user interface, I am currently working on the Global Company Database feature and its integration on results' detail document generation. Things are still quite new for me so I can't give too many specific technical details, but I am really enthusiastic about this new wave of incoming knowledge!
What are some of the most unique things about your team that make it special?
One of the many things I genuinely appreciate about FundApps is our unintentional diversity. Regardless of how different everyone's background and mentality is, the curious souls of FundApps manage to create a harmonious synergy of how the company should run, and create amazingly insightful socials at the same time, inspiring me to become a better and funnier individual.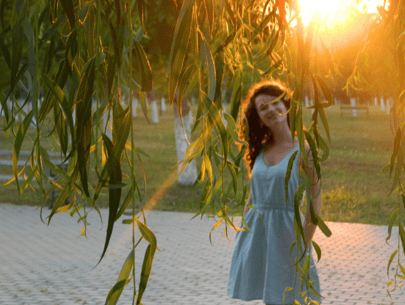 What's your favourite FundApps value and why?
That would be #be-transparent. I was raised to believe that honest communication is the oil to the engine that keeps this world in harmony. If one does not understand something, they should speak their mind as there are probably other people in the room that are afraid to ask questions. Additionally, I am one of those people that would like to be prepared for any type of situation, so I appreciate being presented with the risks and potential issues of a decision, in which case transparency is definitely a great asset.
If you had to play one song on repeat in the office for the day, what would it be?
Probably one of my annoying songs that I could dance kizomba to. Usually this dance style brings me a sense of bliss in any given context. Inducing a familiar environment makes me more prone to find comfort and therefore be more productive, so some elegant chilled-beat song might do it for me. A good popular example would be "C4 Pedro - Não Me Pede". I am still hoping that someone in the company will join me in this cult at some point!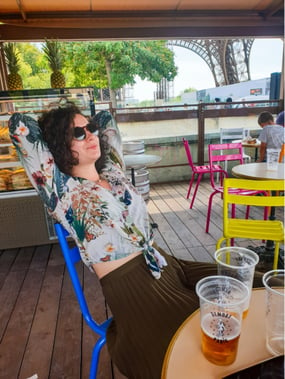 What's the most useless talent you have?
Having a really good long-term memory of really useless details, such as what someone ordered at lunch 2 weeks ago or why did someone's nephew come visit them on a Thursday rather a Friday. Usually this information pops up very occasionally and scares the hell out of people, showing me off as some protector of a great memory palace when in fact there are just instances of garbage collection errors. As one could guess, sometimes crucial details of a piece of work need to be repeated several times until I can remember them correctly, but my fellow FundAppers don't seem to mind this, therefore I'm calling this a useless talent ;).
Which TV or movie character best personifies you?
I find it really hard to answer this question, but in the end I have to choose Dory from Finding Nemo. Dory always means well and wants to help her friends get out of trouble, but she does not always reflect that in the best possible way. Her lovable stupidity and putting her problems second to others are some of the things that give me the awkward "hah, I do that" smirk on my face when I'm watching Finding Nemo!