Client Success - New York Office
As our resident craft beer and cheese enthusiast, an avid traveller (he just got back from gorilla trekking in Rwanda and Uganda), future captain of our NYC touch football team and a lover of the European electronic music scene, Peter joined us in January 2019 as a Client Success Associate in our New York office. We sat down recently with him to learn more about him, his role and his thoughts on FundApps.
Give us some insight into what you do at FundApps
I usually get in between 8 and 9 am in the morning and go on a quest for coffee. We work out of a WeWork on Broadway, which is pretty quiet in the morning, so I get to start my day with a relaxed cup of coffee and go through my emails and slack messages. Things usually pick up around 9 am, when I have virtual meetings with my colleagues in London, answer support queries and reach out to our clients to discuss this, that or the other. After trading ceases in Europe, our focus shifts to our North American customers. We look after a wide variety of clients (Pension Funds, Hedge Funds, Banks, Sovereign Wealth Funds and Asset Managers) and constantly bounce ideas and questions off of each other. If there is some downtime in the afternoon, we work on projects like preparing webinars, organizing in-person client visits, creating internal learning sessions or checking out locations for our next social outing.
What are you working on at the moment?
At the moment, I am focused on helping two US hedge funds with the implementation of our Shareholding Disclosure service. We always start with creating our new clients' environments and giving them access to our platform. Afterwards, we support them in recreating their organizational structure and uploading their positions into our platform. Then follows the most fun part of the whole implementation process (at least for me), when we get to play around with the system, try different tools and train our clients until they feel comfortable enough to "go live".
What are some of the most unique things about your team that make it special?
The most amazing thing about working at FundApps is without a doubt the culture. I get to work with great people from over 25 different countries, who are all bringing incredibly diverse backgrounds and experiences to the table. Since no day is ever the same and we are constantly learning new things, it's fantastic to have colleagues that keep their ketchup in different places.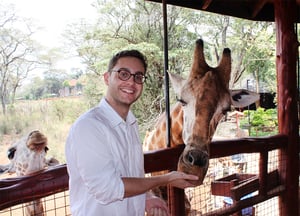 What's your favourite FundApps value and why?
It has to be #raise-the-bar. Everyone in this company is permanently striving to create something amazing and then make it better. This does not just relate to our product, but also applies to our internal processes (e.g. we regularly revisit how the teams collaborate across the company), our personal knowledge (we have a learning budget to buy books, sign up for classes etc.), our team spirit (monthly socials are a real thing here) and our FIFA skills (Pat knows all the cheat codes, so beware).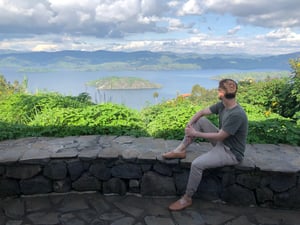 If you had to play one song on repeat in the office for the day, what would it be?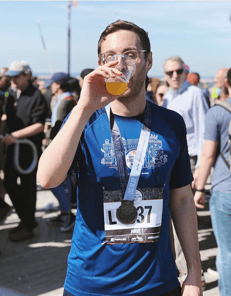 "Autobahn" by Kraftwerk. Great song by the pioneers of electronic music. Also, zee German in me just needs a little bit of Autobahn every now and then.
What's the most useless talent you have?
I went through a serious "The Simpsons" phase and probably know a little too much Simpsons trivia. Reverend Lovejoy's first name you ask? It's Timothy.
Which TV or movie character best personifies you?
Peter Quill from "Guardians of the Galaxy". We both love music from the 70's/80's and the color green.