On Sunday, May 20th we attended the tech job fair Silicon Milkroundabout London.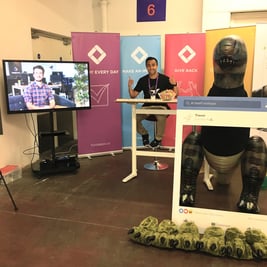 It is the 5th year that we are exhibiting and have found several of our team members here in the past years. As this is a recruitment fair, it is our main aim to seek new talent to add to our growing team of developers (as our CEO recently said: "talented developers are rarer than Unicorn poo").
Iago Martinez, Engineering Team Manager: "FundApps have had a presence at Silicon Milkroundabout for the last five years — it is the best event of its kind in London by far. For us it's about getting our developers out there as ambassadors for FundApps and for the Engineering team, to create awareness of the awesome work we do and engage with our future colleagues."
There is a lot of creativity in the way that companies introduce themselves and we do love thinking outside the box! Trevor, our friendly T-Rex, is keen to come along too, as the FundApps mascot, and enjoys all the attention he gets. This year he has also featured on our stickers, helping to illustrate our key values: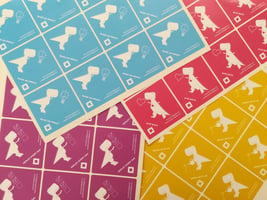 Make an impact: help shape what we work on and how we do it
Grow with us: no micromanagement, no ruts to get stuck in
Give back to the community☺
Deploy every day: be empowered to make choices and trusted to get things done.
What did it take to make "the big day" happen?
We started by designing the booth and the materials we would need on the day. We wanted a simple, but colourful stand that highlighted our values and our people. Since engaging with potential new FundAppers is key, we discussed the 'recruitment flow' in detail to be able to give every visitor careful consideration.
We also planned a post-SMR intro event at our office in case both parties were interested in having an extended intro to FundApps and chat. We also had our forms ready to capture the details of interested candidates, ensuring of course that we had their consent in wake of the upcoming #GDPR.
As part of our commitment to become a B-Corp, we decided that we will reduce our paper usage to a minimum, relying instead on iPads as much as possible. A few things we did to make an impact and stick to candidates' minds:
We made sure to convey the cheery attitude we maintain at the office ☺
We listened to what candidates wanted first. Then we could transparently outline our offer, in order to see whether we matched — the best long term solution, of course!
We ordered a selfie frame so that candidates could have their own fun memory of meeting us (and Trevor!). We also wore dino feet slippers, despite it being a lovely warm and sunny day outside! Not to be missed, we brought our office nerf guns (who doesn't like a nerf gun fight!) and last-but-not-least treats!
We played our intro video in the background to share a closer view of what our office life actually looks like.
The idea behind the intro (and free pizza☺) event was to invite interested candidates to come, mingle, listen to the FundApps story from our CTO James, enjoy some treats and meet our devs. We also threw in a product demo!
We spoke about our key benefits and responsibilities, connecting these to each candidate's profile in particular.
What we took from the event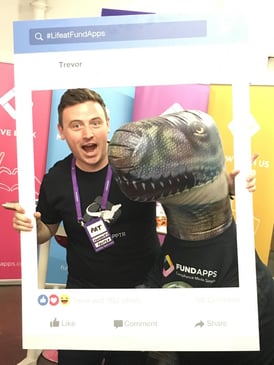 We were impressed by the catering and organisation at the venue, which is easy to find and (bonus!) close to our office. It served as a reminder that it's important to find the right fit, both for the company and the candidate, and, of course, that we ❤ working at FundApps.
Since Sunday we have already hosted some of the candidates at our Shoreditch office for the intro night and some follow-up conversations. It's great to see the immediate impact of our hard work (and to get a good excuse to have pizza!).
Thank you to all those who came and visited us at #SMRmay2018. Special thanks go to our own volunteers and we will be back in November later this year so keep an eye out for us!
For more updates, you can keep up with us on Twitter or Facebook and take a look at our Careers page.