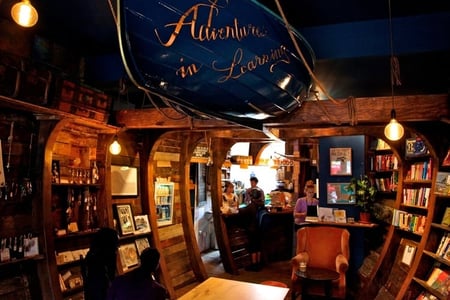 The Deck, at Hackney Pirates. (Image courtesy of hackneypirates.org)
When I joined the FundApps team over a year ago, I knew I was joining a team made up of bright, motivated individuals with the technical and industry know-how to build an amazing, multiple-service compliance platform that will shake the world of compliance. What I came to quickly learn after I joined was that this group of people were not only passionate about the work they do, but also about giving back to the community.

Companies can too easily take from society, and FundApps tries do the opposite. Last year, we took part in a community garden rejuvenation project with a local community centre, working as a team to do in a day what might have taken weeks of individual work. We also donate a portion of our profits to charity every year, ranging from local causes to global efforts. At FundApps, we also have an active company Kiva.org team, where we provide loans to low-income entrepreneurs and students around the world, for things like cattle, tuition fees and inventory. Kiva provides people with a way to get access to capital that they can use to change their lives for the better and escape the circle of poverty, without predatory interest rates or unreasonable terms. Members of our team lend out their own money, and get it back when a borrower is in a position to pay.
Our generous volunteering policy has allowed me to spend 3 hours a month volunteering with Hackney Pirates, a local charity working to develop the literacy, confidence and perseverance of young people in our community. Every FundApps employee gets 32 hours a year to spend at a charitable cause of their choosing. Often, time is much more valuable than money, and getting hands on with a good cause can lead to amazing results.

We're a small team located right in the heart of Shoreditch in Central London. Last year marked a momentous occasion for us as we opened our first global office location in New York City. I'm very proud to be part of the FundApps team because, as we expand as a company, we don't just focus on our core business values which have enabled us to grow. We take it a step further and focus on giving back to the community that has given us a home; whether that's just outside our doors or beyond.
If paid volunteering leave, donation of profits to charity and company volunteering days sound like causes you can get behind, take a look at our Careers page or send an email to careers@fundapps.co. We're hiring for a number of exciting roles and are always looking for smart and inquisitive people to help us make compliance simple.