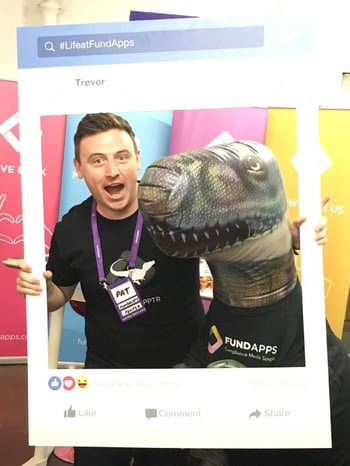 Our company mascot, Trevor!
On Sunday November 27th, FundApps will be hosting a stall at the Silicon Milkroundabout jobs fair in Shoreditch, London.

As a rapidly growing company, we're constantly on the lookout for top talent - we need it to keep improving our one-of-a-kind service. We're excited to talk to developers of all kinds at the event, and hopefully, we'll meet some future hires there for the very first time. Silicon Milkroundabout has been a big success for us previously and we can't wait to get set up!
What roles is FundApps hiring for?
We're currently looking to hire three new people: a digital designer, a software engineer and an infrastructure engineer. If you won't be at Silicon Milkroundabout, don't worry! Introduce yourself to us on Lever instead.
Why should I work for FundApps?
First and foremost, we're a fantastic company to be a part of. We're a small but dedicated team that care deeply about the work we do. You'll be trusted to do an amazing job and reach your potential: we don't believe in micromanagement.
Secondly, we've grown a fantastic customer base. Two of the world's ten largest hedge funds use our services, as well as two of North America's largest pensions funds and some of the world's biggest asset managers. FundApps currently analyses over $2 trillion in client assets each day, making compliance simple for financial firms around the world. Not bad for a boot-strapped, employee-owned company that has never taken a penny in venture capital!
Also, we've got an excellent benefits package. A bumper fruit basket arrives on Mondays, healthy snacks from Nutribox reach us on Thursdays and Deskbeers make a delivery every Friday. We do monthly socials (paintballing, karaoke and minigolf were very popular) and spend two days every year volunteering as a company. Individuals also get 32 hours of paid volunteering leave, half-price gym membership and top-notch equipment to use.
What is this RegTech thing I keep hearing about?
RegTech is a subset of FinTech, focusing on compliance and regulation, as opposed to sheer finance. Regulatory technology (or RegTech for short) is seeing enormous growth as an industry, and big players like Deloitte and the World Economic Forum see us as a real force for change. Our unofficial motto is 'Automate All the Things'. We're dragging compliance out of the Middle Ages and into the 21st century.
If you're at Silicon Milkroundabout on Sunday, be sure to say hello! To find out more about what life at FundApps is like, follow us on Twitter or Facebook and take a look at our Jobs page.