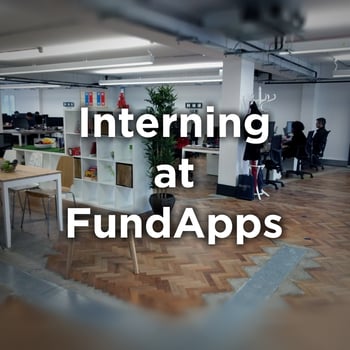 In this post, Freda McCusker gives her account of what it was like to be an intern at FundApps from June to August 2016.
A trend which struck me when I was studying Law in Trinity College Dublin was how technology is disrupting and revolutionising sectors such as finance, medicine, and education. I realised it was inevitable that the same changes will soon affect the legal sector. I had also done two internships in an investment bank during which I saw how antiquated legacy software systems were drastically reducing efficiency and productivity. I began reading anything I could to learn about disruptive technologies, only to quickly discover how they had already made inroads into the regulatory sphere.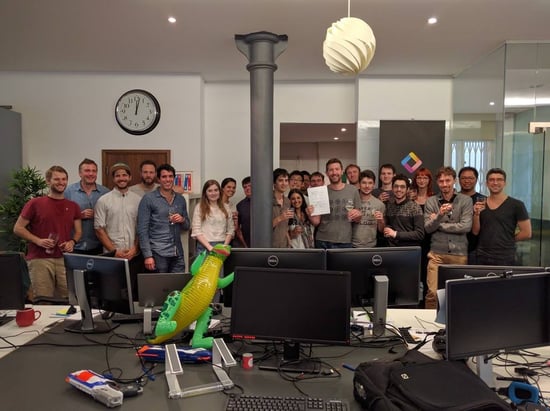 Celebrations after three new clients signed in one month in July this year.
FundApps, with its cloud-based, managed service that was automating shareholder disclosure regulations for the investment managers, emerged as a leader in this area. I first read about them in a report published by Deloitte entitled "Is Regtech the new Fintech?". It described FundApps as "truly a great example of a Regtech company" and being Irish myself, it obviously struck a chord with me that it had an Irish CEO. From there, I went straight to their website and LinkedIn page to find out more about the company. I liked it more and more as I read, particularly the idea of it being more than just software but also a compliance and content service. FundApps also seemed from its existing job advertisements and YouTube videos to be a fun place to work. I decided to contact them to see if it would be interested in hiring me as a summer intern.
The Application Process
Upon sending an email, I received a reply almost immediately where they said they were delighted to receive my email and asked me if I was available for a video interview with their Product Manager Aliya Ladhani. That interview took place the following week. It was the first video interview I had ever done so I was nervous but almost immediately upon beginning the call Aliya's friendly and informal demeanour put me at ease. She began by giving a further explanation of FundApps' service, describing her own background and role within the company and explained that she envisaged that I would be an intern on the compliance team were I hired. She then asked me how I heard about FundApps, why I was interested in their service and some questions about regulations. At the end of the interview, she asked me to prepare a memo about ideas for projects I could work on were I to be hired as an intern.
Working at FundApps
In the days that followed, I set about researching regulatory developments that could be possible project ideas. As FundApps' service covers over 85 jurisdictions, there were lots of options available to me. I came up with 3 ideas which I sent to Aliya and she replied quickly to organise a second interview once again with her and also with the Head of Content and my future manager, Karl Schindler. This interview was much like the first but we discussed my project ideas in more detail. Once again their friendly, light-hearted manner and sheer enthusiasm meant that I could talk freely about my ideas without intimidation. It was an enjoyable experience and it lived up the impression I had of FundApps as being a fun place to work from its website. After this interview, I received an email from Aliya offering me the summer intern position which I was only too happy to accept.
My main task was a project I was given on my first day about a new area of regulations which FundApps wanted to research. They wanted me to research the area and to teach my colleagues my findings. I had no previous knowledge of the area so my research began with reading basic articles online prepared by law firms , progressing to eventually reading academic books and journals. Finally, I read the regulations themselves to nail down some of the finer detail. It was at this point that I truly understood the value of FundApps' content service for their clients. These regulations are highly complex and technical pieces of legislation and FundApps' compliance analysts and clients services team have an in-depth knowledge of their provisions to save its clients the time involved in reading these regulations themselves. As I learned during my project, this is no easy feat. I then presented what I learned to my colleagues and answered any questions that they had. After this, I was also involved in researching stock lender/borrowing and preference share provisions of shareholder disclosure regulations.
other stuff: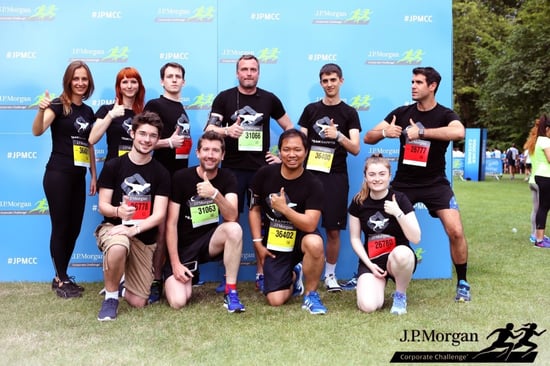 Freda and the team at the JP Morgan Corporate Challenge in Battersea Park this summer.
Whilst all of this work was hugely interesting and enjoyable when approached from a legal background, I liked a lot more about FundApps than just the work. It's a fun place to work - the office environment is easy going and relaxed. The team members were extremely welcoming and friendly upon my arrival. They're always up for a laugh in their general approach to work. There was also a monthly social event, which was crazy golf and karaoke during my time there, alongside other office customs such as desk beers on a Friday afternoon, sports and board games.
It's also a great place to learn. Every member of the team was excellent at their job and had a "no nonsense" approach to getting the job done. They were always willing to teach me new things whether that be by answering questions or giving weekly presentations on various topics in the "Brown Bag Lunch" series. I never felt as though anyone was unapproachable. I feel like I learned so much during the internship, especially about areas such as technology and finance which I don't get an opportunity to learn about at university.
Finally, I would urge anyone thinking of applying for a job at FundApps not to hesitate. It's a no-brainer. I would work there again in a heartbeat.