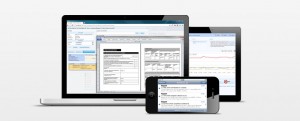 What were the last 5 things you did on your computer?
Google something? Write some emails on Hotmail/Gmail/Ymail? Post something on Facebook? Check a prospect out in Salesforce.com? Connect to somebody on LinkedIn? Or maybe even some of you are using Google Docs or Office 365 to edit & share documents?
It seems like more and more of our time is spent using an internet browser to get things done. Previously we referred to this as "SaaS" (Software-as-a-service) but lately it has been rebranded, more sexily, as "Cloud Computing".
The traditional model was for software to be installed locally on your hard disk. In the financial services world this meant software was installed by the vendor.
Installed Software Disadvantages:
Databases (Oracle, normally being the database of choice), which required - Server computers, expensive Software Licenses and a DBA (Database Administrator) to make sure the database is functioning correctly.
Server computers: At least one server was necessary to run the main part of the system. For bigger systems multiple servers were necessary (Production, Pre-Production, Test). Plus the human resources to make sure these servers stayed up and running.
Client computer installations: The software had to be installed on all PCs (Macs are usually not supported) which needed access to the system. Leading to compatibility problems, DLL hell and general update issues.
When a new version of the software is released all Client PCs have to be updated, the server needs to be updated and sometimes the database needs to be modified too. This is traditionally performed by consultants employed by the vendor, is chargeable and is definitely not a speedy process. Depending on the complexity of the system an upgrade can take anywhere up to 3 months. Success is not guaranteed and problems can arise which mean the upgrade might have to be rolled back.
As you can imagine the above didn't come cheaply and proved a headache for all but the largest banks. Fast forward to 2011 and Cloud Applications are slowly but surely replacing installed systems. Why?
Cloud Advantages:
Platform independence. You can use a Mac, PC or even your iPhone to access the system. All you need is a browser or a mobile device.
Software updates are done in the background. The next time you login you will have additional functionality or a bug will have been fixed.
Cost saving. The servers, databases (incl. licenses) and applications are maintained by the Cloud system provider (hint: that's us).
That's why we've gone Cloud at FundApps. In our previous companies we saw the pain that installed software caused. We felt guilty charging clients to upgrade their software to the latest version (especially if they got no added value from the upgrade). We disliked telling prospects that they'd need to buy database licenses and hire a technical person to monitor the system. So we said surely it must be possible not just for consumers, but also for financial services companies (both large and small) to enjoy the benefits of cloud computing.
And so we founded FundApps to provide software that:
Is extremely user friendly, think Facebook, not the controls of a nuclear power station. Do you really want 42 menus and 10 buttons on each screen?
Does what it says on the tin and what the user expects. We've been building compliance systems for over 12 years now and really know what is needed.
Doesn't cost the earth. In the last decade software has been democratized and therefore cheaper. Companies with old technologies and massive fixed costs need to charge an arm and a leg for their software. We don't.
Has a licensing model that suits you. We don't want to lock you into a massively long contract. If you're unhappy (which you won't be) you can leave.
Is forward looking. Desktops and laptops are being superseded by tablet computers & smartphones. We support these devices 100%.
Over the next few weeks & months we'll be letting your know more about FundApps and explaining how we and our technology work.
Please comment on our posts, we love to hear from you!