From talking to our customers, one of the biggest benefits we gain from being on the cloud is that all our users can take part in the Rapptr community. From discussions about UCITS or EU Disclosure rules to feature requests, we can easily leverage our user base around the world to make sure our software is always doing what our users want.
One of our favourite features is the "Feedback" form (powered by UserVoice), where users can enter features they would like or even vote on features other users have requested. FundApps is hugely focussed on implementing features which are on this list, as we know they are real-life requests which would make our users' lives easier.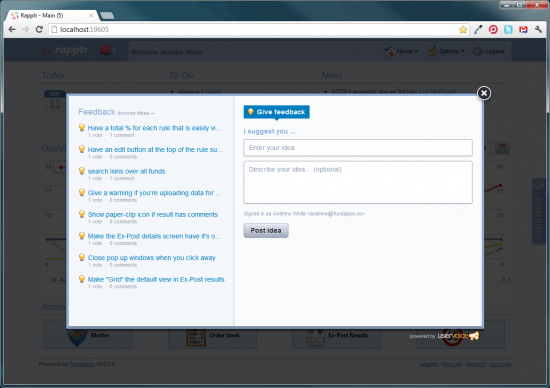 Compare this with old & clunky enterprise software where you have to call the support line or even fill in a dreaded "change request form" to even stand a chance of someday seeing some functionality you require. That someday sometimes being 1 or 2 years, as the release cycle of enterprise software companies is notoriously long.
Not so with FundApps. Click the "Suggestions" tab floating on the right hand side of every page in Rapptr, type in your idea and you'll get feedback within a short space of time. If we find demand for the feature it could be implemented in less than a month. Smaller features even within two weeks.
Sick and tired of waiting for new features in your enterprise software? Then contact us and we'll show you how easy it can all be.