Here at FundApps, we are happy to announce that we have recently unveiled version 20,409 of our flagship regulatory compliance software. We've seen huge team growth in the past six months and we're dealing with enormous interest from companies that are looking to work with us, so we thought we'd share the news!
"Version 20,409 is a pretty big deal. Looking back, we have also had some pretty amazing releases... v12,351 was a particular favourite of ours but this really raises the bar," proudly said our CTO, James Crowley. "We mentioned around this time last year that many of our competitors have software that is stuck around versions 6 to 9, so it's disappointing to see they've fallen even further behind."
This release of FundApps came from the back of weeks of intense development - however the update process is virtually invisible to people logging into our system every day.
While some of our readers may be concerned about the IT resources that would be needed with so many versions of the software, FundApps definitely bucks that trend by using the cloud. "Cloud is the future of software, and for smart companies it's also the present," FundApps' CEO Andrew White remarked. He attributed a lot of their developmental success to the fact that the latest software can be pushed to all users immediately, with zero downtime.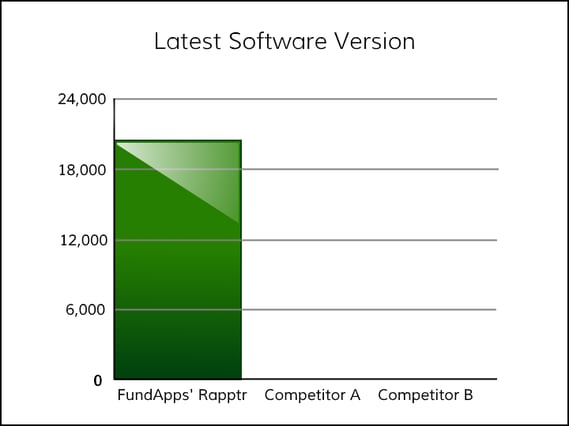 After crunching the numbers (seen in the graph above), it's clear to see that tracking our competitors' development is getting pretty challenging. "We're at least 20,000 versions ahead of our competitors," said James. "It would help if we could at least see them on a graph... Maybe they just don't take development as seriously as we do."
Unfortunately, after speaking with our Development team, it doesn't seem like new versions of FundApps are likely to disappear any time soon. We write, test and deploy all of our code in-house and publish any updates seamlessly - occasionally more than once a day. This ensures all of our clients are using the same version: guaranteeing the fastest, most powerful and most secure product is available to everybody all of the time.
For more information on FundApps, or to find out how it can improve the way your company deals with regulatory compliance, give us a call on 020 3286 6978.