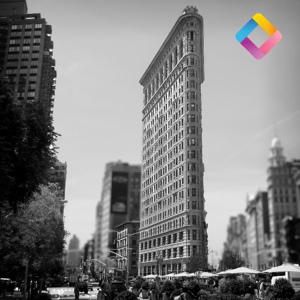 FundApps Inc's new neighbor, the iconic Flatiron Building.
Our first ever international office opens today! As more than 50% of FundApps' clients are based in North America we decided to get some boots on the ground across the pond, so as of November 1 2016, FundApps has a presence in Manhattan.
Our shiny new office space is in Manhattan's trendy Flatiron District, giving us excellent access to our clients on the East Coast and easy transit links to the rest of the USA and Canada. We felt that Flatiron represented FundApps outlook perfectly, as it sits close to both Midtown and the Financial District, but also is home to some of the most exciting tech companies in NYC.
Why has FundApps opened an office in Manhattan?
"We wanted to wait for the right time." said Andrew White, FundApps CEO. "That was crucial for us. We have been extremely keen to open a US office for a while, but we felt that opening at the right moment was just as important as opening at all. We've seen a big surge in demand from the USA and Canada over the past year or so, so it made sense to set up a New York base to better support our clients and prospects."
2016 has been a huge year for FundApps. July was our busiest month on record and client approval has never been higher. Many major new features in FundApps have gone live in the past few months, and a new compliance offering is soon to go live for some clients, so our New York office will help us to satisfy an ever-growing appetite for our services.
What will this mean for clients and prospects?
"Getting to see the people who use FundApps in person changes the dynamic of the relationship..." said David Polonsky, US Business Development Manager. "We've done an excellent job from London prior to the expansion, but being able to visit compliance and legal teams without needing to cross the Atlantic every time is going to be a big help in that respect. Our clients in the US have been key to helping us forge the direction of the product and with this move we will be able to continue making our North American clients' lives a bit easier."
A US office will help us to grow our compliance community even further. Some of the world's largest investment managers are located in New York and the US so it is a crucial market for FundApps. Taking a step closer to those firms and their compliance teams will help us to bring new clients on-board more quickly and easily and enable us to build even stronger bonds with those who use our service.
What is the FundApps New York Office like?
The talented and all-round fantastic person, David Polonsky, one of our Business Development Managers, is leading the entire US initiative. An American born and bred, he spent years working in the financial industry in New York before joining FundApps in London and is the perfect person for the job, moving away from London to show North America just how simple compliance can be.
Our modest new space includes a games room, bike storage, fantastic views over Madison Avenue, a full kitchen for snacks and all the technology we need.