The European Securities and Markets Authority (ESMA) have issued a public statement intended to clarify the supervisory actions of the National Competent Authorities and the application of Position Limits. This follows the changes introduced by the MiFID II Recovery Package for commodity derivatives due to begin application in early 2022. It is ESMA's expectation that NCAs should not prioritise supervisory actions towards entities holding positions in commodity derivatives except agricultural or significant or critical commodity contracts.
To aid the recovery from the COVID-19 pandemic, the amendments reduce the scope of commodity derivatives subject to position limits. Limits will continue to apply to agricultural commodity derivatives and critical or significant commodity contracts (those that have a net open interest of 300,000 lots over a one year period).
How can we help?
FundApps works with FIA Tech to interpret position limits on derivatives contracts, providing clients with global coverage. Once the new legislation becomes active in 2022, FundApps will automatically ingest the updated contract information so that traders can take advantage of trading larger volumes in contracts where limits have been removed under the reduction of ESMA's position limits scope. If you'd like to find out more about our automated Position Limits service then get in touch!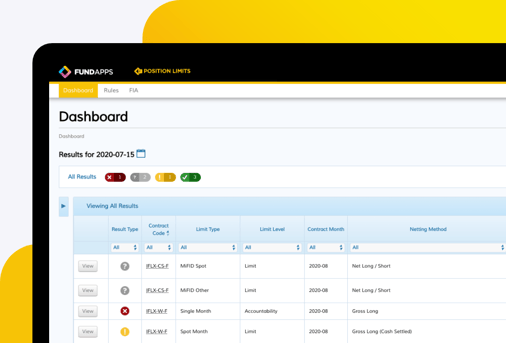 Screenshot of our Position Limits service