All you need to know about MiFID II Position Limits Reporting.

Who will be affected?
Assuming that the directive will be implemented without any gold-plating, it is safe to say that commodity positions reporting will mostly affect investment firms which trade commodity derivatives outside trading venues.
These firms will have to report on a daily basis to the relevant National Competent Authority their economically equivalent OTC positions in all commodity derivatives, emission allowances and derivatives of emission allowances, as well as those of their clients and the clients of those clients and so on, down to the end client.
Firms who trade commodities only on exchanges will not have an obligation to report to NCAs. However, they will be responsible for notifying their (and their clients') end of day positions in commodity derivatives traded on a regulated market, a Multilateral Trading Facility (MTF) or an Organised Trading Facility (OTF) to the prescribed venue. The trading venue will issue a weekly report to ESMA, and to the NCA of the country where the relevant exchange operates.
It is worth highlighting that reporting persons in the two above-described cases are fundamentally different. The first category limits the scope only to investment firms, and the second broadly speaks about members of the trading venues.
Reporting flow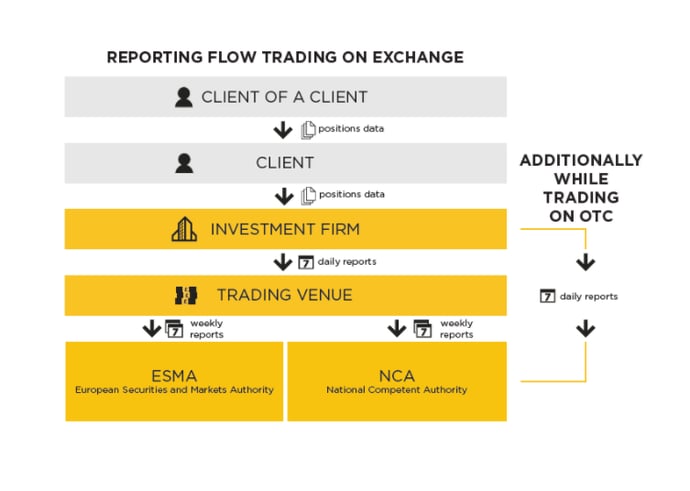 The reporting structure above suggests that there were to be an overlap and possible overreporting. However, ESMA clarified that investment firms should only include EEOTC contracts in their daily reports to the NCAs under Article 58(2) MiFID II, without combining them with their positions traded on trading venues.
MIFiD II enters into force on 3rd January 2018. Certainly, all market participants, trading venues and vendors will closely observe how NCAs deal with the amount of the incoming data, especially in the first months of 2018.
Would you like to know more about how FundApps can help you with Position Limits for MiFID II? Book a demo or contact us to learn more.