"Well, how do all of your other clients do it?"
Regulation can be ambiguous and confusing; that is a major reason why we exist. Our Client Service team are the experts when it comes to discussing the details of regulatory disclosures for jurisdictions all across the globe. They often can give an answer on how the industry views a certain piece of regulation with a quick phone call.
However, a consistent thread of feedback from both our first and second Client Conferences was that our users love to discuss the nuances of the rules with their fellow users. We now have over 250 legal experts who log into the FundApps platform who are authorities on various parts of global regulation. The question then became, how do we connect these people? It is not a secret, we love the cloud. What better way to demonstrate the power of our technology than to enable our users to discuss the FundApps rules with other users and our Client Service team within the platform?
Our Product Manager, was quick to respond to our users' feedback and push out our Rule Commentary functionality. FundApps is a community of compliance professionals and, with Rule Commentary, we are now able to further utilise the use of cloud technology to provide a secure forum for our users to engage in discussion and get answers from a passionate community of clients, partners, and FundApps experts.
Rule Commentary arrived in our users' browsers one sunny morning in June (2016) and has since been a hit with the client base. Now when you view your dashboard, you can quickly see what jurisdictions have new comments.
Then, by drilling into a rule, you can discuss the interpretation of the rule with the community.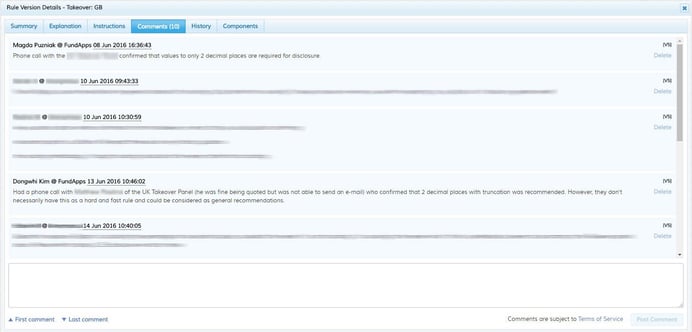 Rule Commentary is simple and intuitive, but most of all it is really helpful when you want the consensus of the largest compliance community instantly. Our roadmap is full of great, new features like Rule Commentary.