Before we raise a glass to 2021 🥂, let's share some highlights from the past 12 months.

2020 has been a tough year, but at FundApps that has only made us work even harder! 💪
We now monitor

USD $13 trillion - u

p 25%

on the previous year!

🎉

We now monitor 36% of the AuM of the 10 largest UK Asset Managers, with 4 of them using our Shareholding Disclosure service
On the other side of the pond, our compliance community now includes 3 out of 10

of North America's largest pension funds and

3 out of the top 5

largest Canadian banks

The fast approaching end of the Transition Period for Brexit and Regulatory change in response to Covid-19 have kept our Content team even busier than usual! So far this year they've received 338 updates from aosphere (an affiliate of Allen & Overy) and released numerous rule updates. Within our Shareholding Disclosure service we now have 410 rules and 170 automated disclosure documents covering 102 jurisdictions around the world.
We weren't going to let our events be defeated by the pandemic, and instead we went digital: we hosted 3 webinars - one hosted with AIMA APAC; one on the complexities of trading in industries with special significance; and one on what firms trading derivatives should be doing to ensure effective monitoring and management. We also took our client conferences virtual!
We are now officially SOC 2 compliant and have achieved Select Technology Partner Status in the AWS Partner Network (APN), the global partner programme for technology businesses using Amazon Web Services.
Now let's put the 💡 on some new product features and initiatives that we launched this year:
Sensitive Industries
Our Sensitive Industries solution is the first managed service for monitoring industries with special significance. Since the launch in March we've had some of the world's largest asset managers partner with us for their Sensitive Industries monitoring. To find out how it works click here or watch our webinar.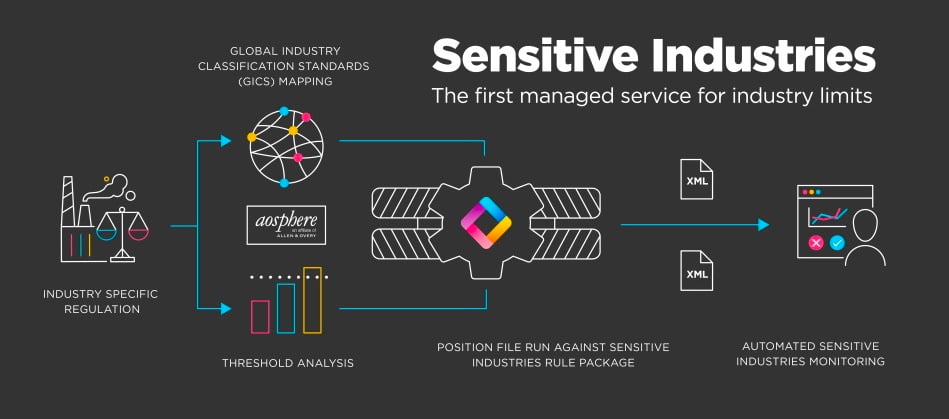 Workflow of our Sensitive Industries service
The FundApps Academy
We began sharing our 10+ years of shareholding disclosure knowledge with the community through The FundApps Academy. Here our subject matter expert, Ebbe Filt, provides online training on short selling regulation and The Transparency Directive. Keep your eyes peeled for more courses coming soon 👀

Rapportr
Gaining insight into key areas such as top holdings across the company as well as historical disclosure records across global jurisdictions has never been easier - users are able to produce high-production value management reports at the click of a button. Find out how we make reporting simple.
Corporate Actions
Our new Corporate Actions Data Service relies on an industry-leading corporate actions feed for events that we know can impact shareholding disclosure results. This allows users to proactively see both current and future events, reducing the chance of missing disclosures due to key corporate actions for companies you are invested in. Find out more here or watch our short video.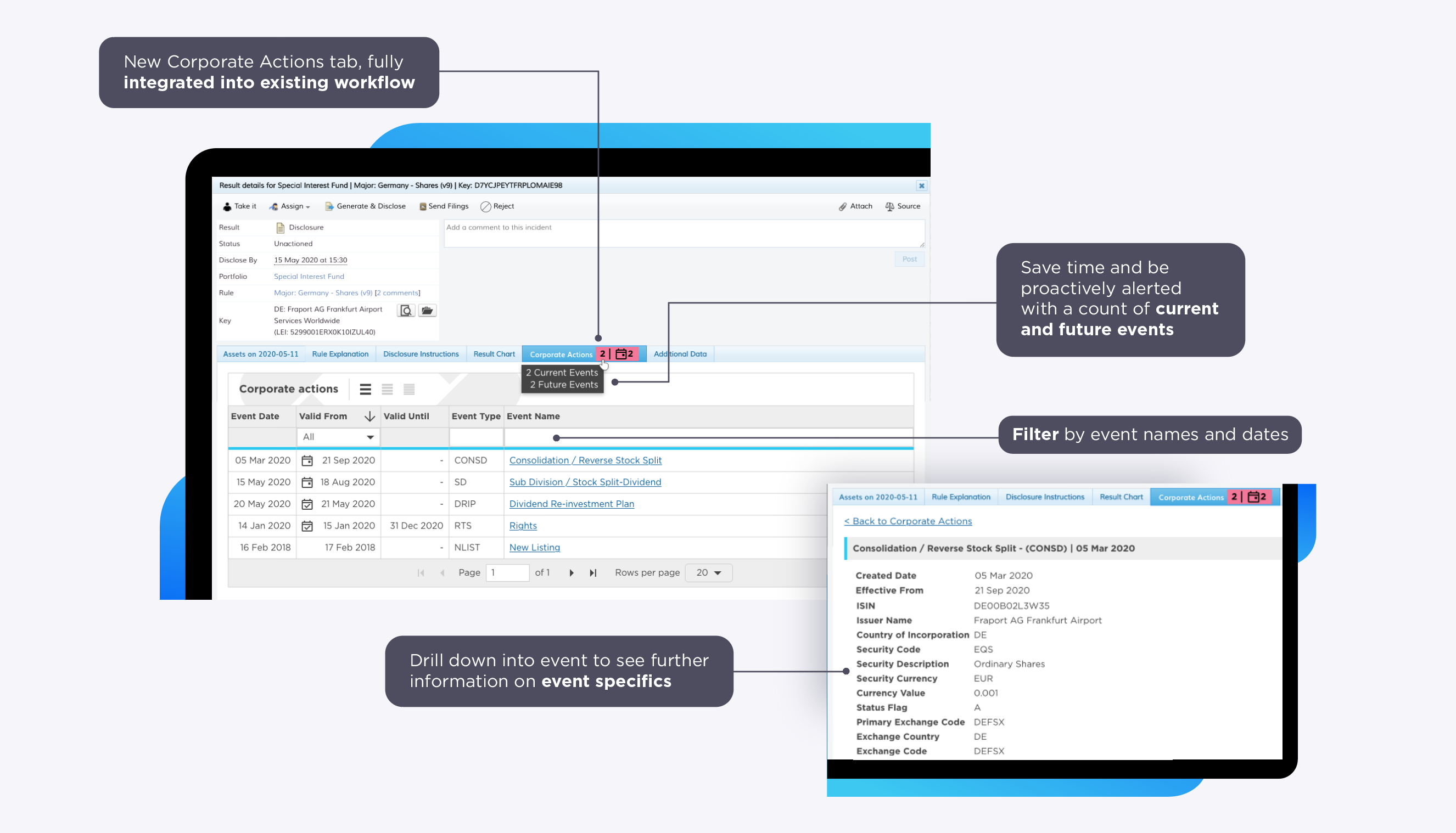 Screenshots of our Corporate Actions data service
Room-In-A-Name for Position Limits
This new unique-to-FundApps feature allows clients to easily identify how many contracts are left to trade before hitting a breach. We automate the feed of this information between Compliance Managers and Traders, seamlessly bridging the gap between the two. Watch our short video to find out more.
US Section 13 Filings Partnership
FundApps have recently partnered with an industry leading Section 13 Filing Agent to support our customers with their US 13G Filings to the SEC. With year end around the corner, it's a great time to consider improving how you currently process your end of year US disclosures.
Continuing our B Corp mission 💚
This year saw us continue to honour our commitment as a B Corp, whether it was through making the most of (limited) volunteering opportunities, donating to charity or investing in the wellbeing of FundAppers. Most notably, we:
Matched £15,000 in employee donations through

Tyve

- a platform automating charitable giving through pre-tax pay.
Introduced Wellbeing 2.0 - the single, biggest investment into our people's wellbeing. You can find out more about what this includes

here

.
So, what's up next? 👀
💛 We're continuing to recruit and currently have 6 open positions, check them out here.
🏠 We're moving office! Our London HQ will have a new home in March.
📹 More webinars, including a further deep-dive into Position Limits in the new year. We'd love to hear what you'd like us to include this time around!

Looking for more content? Check out our most popular blogs of 2020:
Cross Listing Conundrum: The most common attribute in disclosure regulation is not the incorporation, headquarters, or assets of a company, but where their securities are listed.
LVMH Vs. Hermes: a story about two French luxury giants and a situation which dates back to almost two decades ago and involves talks of a potential hostile takeover.
The Pitfalls of Coding Your Own Rules: Here at FundApps, we believe in the power of cloud software to allow compliance officers to benefit from a shared set of compliance rules. In this blog we share some of the major pitfalls to either purchasing a compliance system and maintaining your own rules, or deciding on a cheaper, but much less robust, alternative.