In preparation for MiFID II coming into effect on the 3rd of January 2018, we're publishing a white paper covering everything compliance professionals need to know about the new position limits rules.
Our 22-page guide goes into detail about what the new rules mean for those trading commodity derivatives, and explains what firms need to do to avoid sanctions and penalties for non-compliance.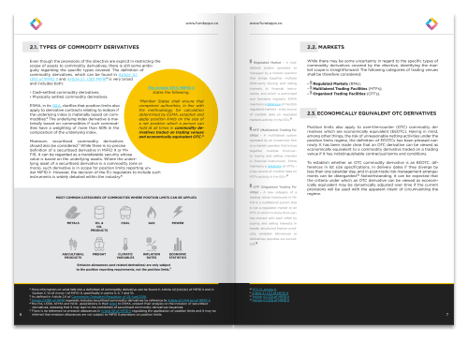 A Guide to MiFID II Position Limits
Written by Magda Puzniak-Holford, one of FundApps' in-house compliance experts, A Guide to MiFID II Position Limits is filled with references, notes and links to official EU and ESMA commentary.
Content Covered:
The content of the regulations, regarding their scope in terms of assets and markets considered for the purposes of the regime.

The data and reporting requirements and the challenges related to data sourcing.

The market participants who will be impacted by the new rules.

The types of limits and calculations which are to be performed in order to determine correct exposures in a certain commodity.