In 2018, FundApps has set a goal to become a certified B Corporation...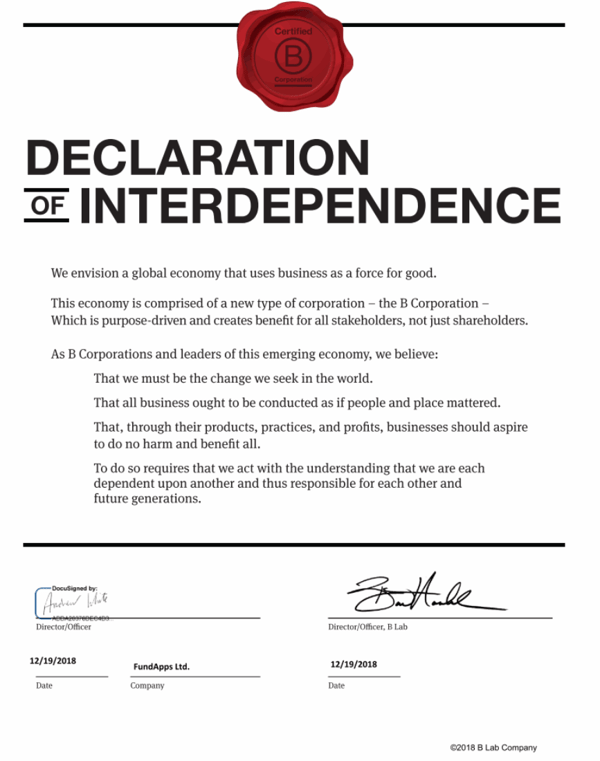 ...and on December 19 we officially signed our Declaration of Interdependence and joined the growing B Corp community!
Back in April 2018 we released a blog post sharing our ambition and commitment to becoming a certified B Corp. The B Corp mission has always resonated strongly with us and much of how we operate FundApps is about becoming the 'force for good' that is shared by the B Corp community.
Our baseline assessment gave us a result of 59.4 points against a requirement of 80 points and following our assessment in December 2018, we had reached 83.8 points.

HOW TO BECOME A B CORP
The B Corp assessment is made up of five categories:
Governance: e.g. mission, corporate accountability, ethics, transparency and company documentation
Workers: e.g. compensation practices, benefits, training and education, ownership, communication practices, flexibility and company culture
Community: e.g. job creation, diversity & inclusion, civic engagement and giving, local involvement and volunteering and supplier/distribution practices
Environment: e.g. how we manage our land, office and plant, inputs & outputs, environmental management systems
Customers: This is for companies who provide a social or economic service directly to customers. FundApps was ineligible to participate in this category (as a regulatory SaaS company).
There are around 200 questions in the B Corp assessment and most of those carry a small point weighting (anywhere from 0.1 points up to 1 point for most questions, and a few heavily weighted questions that can give us between 3-7 points). Increasing our score by >20 truly was a team effort that required us to make some significant changes to how we operate our business to provide greater benefit to all of our stakeholders: our people, our clients, our community and the environment.
HOW WE PERFORMED IN THE ASSESSMENT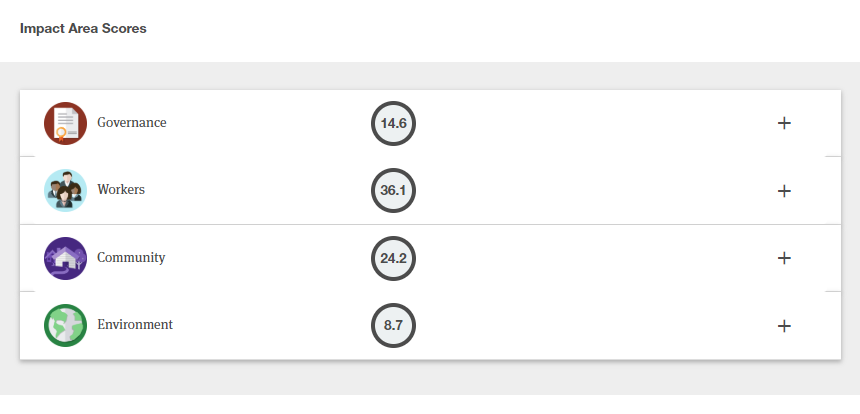 The above is a breakdown of how we scored in the assessment, with points coming from all four categories but more strongly within the Worker and Community categories.
Here are some of the things we have implemented at FundApps that contributed to our B Corp certification journey:
Governance
Defined our mission statement/vision and consideration of social and environmental impacts in how we operate day to day
Put financial controls in place relating to segregation of duties, external reviews and access to data and systems
Created company documentation relating to whistleblowing
Introduced client protection and feedback mechanisms
Amended Articles of Association that formally require consideration of employees, community and the environment
Workers
Introduced a compensation strategy at least at 50th percentile of the market
We have a <5x ratio for highest paid employee to lowest paid employee
Our minimum wage is >25% above the local living wage
FundAppers received a 12.19% average increase
Introduced 12 weeks' parental leave for all FundAppers, regardless of primary/secondary caregiving responsibilities and family circumstances
Introduced flexible wellbeing allowance for anything from gyms and yoga, to financial advice and health insurance
We have 25 days holiday (extra day if you use it all), birthday off, unlimited sick/professional development leave, company and personal volunteer leave
Facilitated Brown Bag Lunch learning sessions covering diversity, finance, data (and random stuff like octopus!)
Continued our Internship programme and company partnerships with universities
Introduced £1,000 personal learning budget with no approvals, plus various development workshops (e.g. Insights Discovery, recruitment training, subsidized courses with time off)
Shared people metrics covering turnover, diversity and engagement with the whole company
Encourage regular use of flexible work - currently 90% of FundAppers work flexibly regularly
Community
Our year-on-year job growth rate exceeds 25%
Continued our preference for using local businesses as suppliers
Recruited a diverse workforce that reflects the communities that we operate in
Donated £25,000 to local charities
Invested almost 500 hours in volunteering service from FundAppers throughout 2018
Introduced management processes for independent contractors
Environment
Use of technology and remote working to minimise the need to travel
Products purchased and used in offices are environmentally preferred
Recycling, food waste, and cartridge/battery disposal in place
WHAT NEXT?
The journey to being a force for good doesn't stop with our B Corp certification. We have ambitions in 2019 to crack the 90-point mark. We have many areas we can improve in, from our turnover rate as we grow, to building upon our benefits offering, and to raising the bar on our environmental performance when we move into our new London office.