2016 was the first year FundApps brought a client conference to North America. At the time, we didn't even have an office there. Fast forward 6 years and now the majority of our clients sit in the Americas, as does an office of nearly 20 FundAppers grown from 1 in 2017🗽. Time flies!
These conferences are exclusive events for our clients that provide opportunities to interact with FundApps executives, hear directly from the teams on the direction of our product, and most importantly, connect to the fellow compliance professionals.
We had clients attending locally, others that travelled from neighbouring Canada, and more from the West Coast and Midwest. Having diverse representation from Hedge Funds, Asset Managers, Banks, and Pension Funds helped drive the conversations and provide interesting perspectives. Our clients are subscribed to Shareholding Disclosure, Position Limits, Sensitive Industries and the Filing Manager.
Highlights
Our CEO, Andrew White started the company with his vision to make compliance simple. After 12 years, monitoring $14 trillion of assets daily in our system and having compliance professionals across Americas, EMEA and APAC regions using the system daily for regulatory monitoring, we are that much closer to compliance nirvana.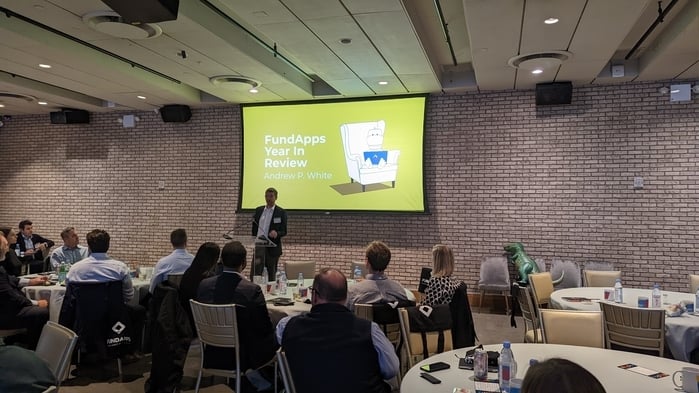 Having started the company more than a decade ago, it was time for FundApps to invest in new technical infrastructure. This was how the project, 'architecture.next', was born. CTO, Toby O'Rouke and Senior Software Engineer, Lea Mladineo talked about the importance of running on the latest technology to continue supporting our clients as we grow. It was a huge investment and one that will pay off for years to come! 💪
There has been increased regulatory changes discussed since the pandemic. First, it was the European short selling regime lowering the reporting limits for all European countries - a change FundApps was able to implement well before the deadline to ensure seamless transition for our clients. Now, there are even bigger changes coming down the pipeline. Our Head of Regulatory Content, Meryl Rastall, touched upon the upcoming SEC changes for which her team is already a step ahead, diligently working on proposed changes. The team has recently commented on SEC: Changes to Private Fund Reporting for US Investment Advisers in relation to this as well.
We also heard from the CPO, Jonny Bradshaw, on items the product team has been working on. Thanks to the collaboration of our clients, we have launched Filing Manager, which for the first time, allows clients to connect directly to the regulators and file Short Australia disclosures to ASIC with one click of a button. Clients save as much as 7-8 hours a week, which translates to time spent focusing on strategic goals and high level initiatives. We are looking to grow these products to grow our value and make clients wildly successful!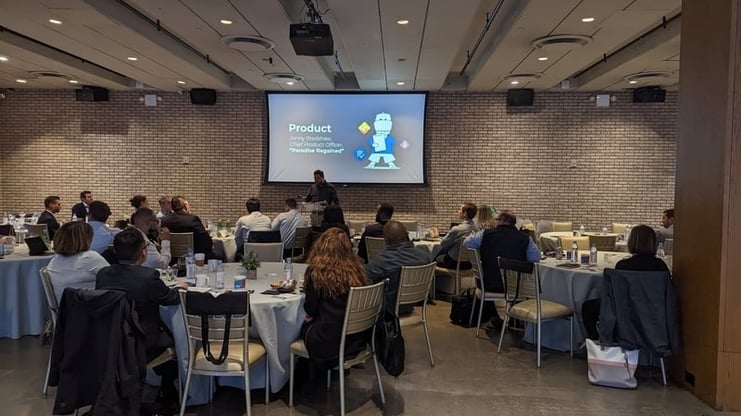 Our world-class Client Services team hosted workshops targeted to participants' needs. One team hosted a session to provide opportunity for recent joiners to learn about the best practices. A second team ran a session for advanced users to share feedback and collaborate with industry experts to develop shared solutions to common challenges.
Our product growth manager, Annie Finlay also hosted an innovation workshop which focused on better understanding the user journey. The activity involved splitting into groups, brainstorming on given topics, and sharing outcomes with each other. The insights gathered will be shared among our clients who contributed, stay tuned! 👀
We are proud of our team and our clients alike. We hope to continue supporting and building our compliance community even more! ⭐