They say that it can be difficult to keep a culture alive as you graduate from being a start up to a small-to-medium size business. So when you're a business that's just celebrated its 12th birthday, navigating through a global pandemic for a quarter of your tenure, felt like a challenge we were, in some ways, half-expecting. With our primary focus on our internal culture over the last few years, the in-person cultural experience the FundApps community generates escaped our memory.
As we grew a few years older, the enforced hiatus on client conferences made the come back even sweeter. There are a few key highlights of the conferences, in both London and New York, that we wouldn't have seen without the gap on events - and we're not just referring to new FundAppers!

A select few magical moments that made all the behind-the-scenes effort that goes into hosting these events all worth it can be found below…
Watching established clients teach newer clients
The collaboration we see across the FundApps community has always been something we're proud of. The conversation and excitement isn't limited to a single area of our services, either. Whether it be the evolving dialogue across Rule Commentary of proposed SEC changes, discussions on the pitfalls of market-data sourcing, or the fights competition for the latest FundApps mascot desk keepsake, our clients are constantly engaging. However, to see it in person at our client conferences was something else entirely. New clients are being embraced into the community with open arms by simply having the FundApps badge.
We watched as our most-tenured clients worked with newer clients during workshops to help guide them to the compliance nirvana that FundApps affords. A FundApps user of more than seven years and previous client conference presenter gave pointers on how new users can lead workshops themselves. It didn't stop there, though.
Ideas were exchanged between the $350mn hedge fund and the world's largest sovereign wealth fund, and between the short-heavy, activist hedge fund and the long-only shop. We facilitated conversations on daily workflows both inside FundApps and out, and challenged clients on how they manage to stay abreast of sensitive industries monitoring without our service - "You can't invest in a company that mines resources within 50 miles of the border of Peru…how would you know without FundApps?!" This commitment to sharing best practices, to attending and contributing at events, is a resounding affirmation that what we're doing is important, useful, and redefining what it means to bring compliance out into the open. And it's certainly a warm welcome after a three year hiatus where this wasn't possible.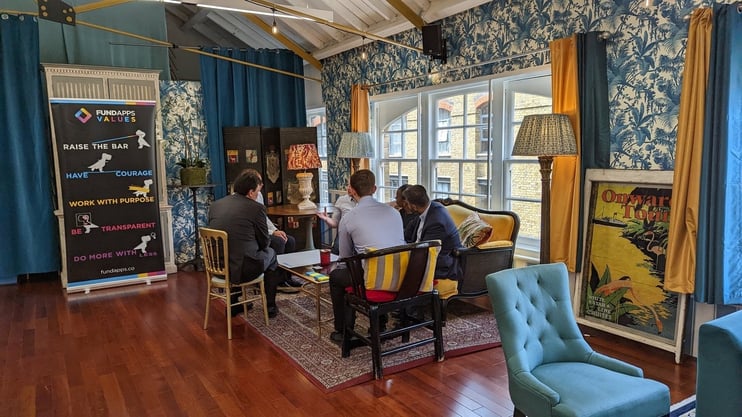 New Friends, New Formats, New Partners
As leaders in the regulatory compliance space, our clients and prospects look to us for the most up to date and relevant information on changes, proposals and new initiatives. At our EMEA client conference, we hosted a fireside panel chat with both internal and external speakers, encouraging dialogue between partners, clients, and colleagues on the ever-changing complexities of regulatory reporting. We heard from our partners at SimCorp, and from an ex-regulator on how changes in regulation eventually trickle down to changes in trading, even if those changes aren't seen immediately. From clients we learned how changes in regulation have the power to influence MI/BI reporting across financial institutions.
These different perspectives provide for a compelling look at what developments in regulatory reporting look like across the industry as a whole, and give context to the reactions that each participant in this space have when they become public knowledge. As we stare down the biggest proposed overhaul of US reporting in recent history, an accelerating adoption of AI and machine learning across tech and investment management, and the potential replacement of standard MI/BI practices in the face of more sophisticated regulatory reporting requirements, understanding these different perspectives becomes that much more integral to decision making.
An Engaged Community
The engagement we saw across the audience of 40+ different clients that attended was phenomenal, and gave us further insight into how we can elevate these events each year. We experimented with new formats and the inclusion of new partners to resounding approval from clients - only further echoed by the success of our events hosted in the same week in Dallas at the Dallas Women in Compliance seminar, and in San Francisco with Optima partners and BACCO. The spectrum of our clients was well represented, from those that have attended a multitude of client conferences, those that are only familiar with FundApps via webinar, and those who are in the running for winning any number of our FundApps awards like 'have-courage' or 'raise-the-bar'.
The value of our community is predicated on tenets and principles we deem important, and those that have presented themselves over the 12 years FundApps has evolved. They are fundamental to a healthy functioning network of compliance peers. To watch our clients wholly embrace them at events like this, to side with our reasoning and eagerly engage and participate with their industry counterparts, is perhaps the most rewarding part of all of this. FundApps was founded with the idea that compliance shouldn't be done in a vacuum and that there is value in community working together. Taking one look at our client conferences confirms that suspicion.

Have we become mind readers since we last saw you?
Unfortunately, no. Could we have fooled you if you were at the client conference? We'd like to think so. Nearly all of our roadmap 'spoilers' were things that clients had been discussing in the morning workshops. The products, features, and functionality on the collaborative roadmap so many have contributed to are out in the wild, and at the risk of sounding like a broken record, it is the community we have fostered with clients, and our continued commitment to community, that makes marrying aspirations with tangible results possible. There is a great quote from Mark Carney's Value(s)' Book that sums up the situation quite well...
"Leaders must continually earn their legitimacy, and to maximise the impact of their organisation they must stay true to its purpose - a purpose grounded in the objectives of its clients, colleagues and community. Great leadership isn't just being effective, it's also ethical, building both value and virtue through its expertise" - Carney, 2020.
Our roadmap is a reflection of that dialogue we have with clients and industry partners and will continue to roll out over the next 18 months. We strive to evaluate our processes and procedures that are core to our business, and those that are instrumental in maintaining successful relationships with clients. Supporting clients with immediate problems yields small wins. Figuring out how to avoid those problems altogether through frequent communication and sharing, whilst also pushing boundaries across both business goals and ethical aspirations, are the big wins worth celebrating. Success in the former begets success in the latter.

What's next?
Overall, it's safe to say we won't be waiting another three years before hosting another client conference (assuming no future global pandemics, fingers crossed). In fact, we're hosting a few more events before the end of the year so keep your eyes peeled for those!
The learnings we get from hosting these events are invaluable, but more invaluable is seeing and hearing the benefit to our client community that these events bring. If you're getting FOMO and want to be the first to hear about our events, sign up to get the latest community information here.