Here at FundApps, we don't see gender diversity & inclusion as an outcome, but rather a way of running a company. It's the reason why we don't have a Diversity Plan or pigeonhole diversity initiatives within our People Ops team. Progress in diversity and inclusion doesn't stem from good intent. It comes from action. For FundApps, that means a continual focus across all parts of our business to identify ways we can foster inclusion and act on it quickly.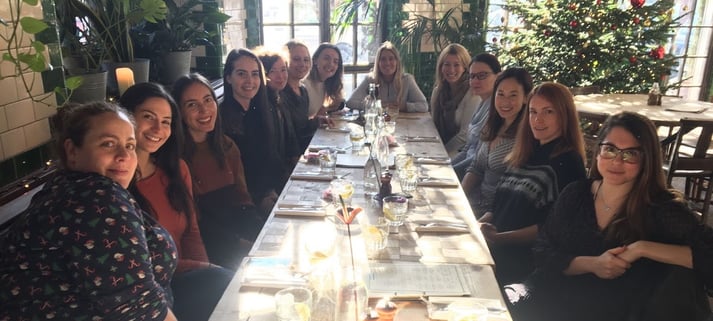 FundApps Laydeez Who Lunch, December 2019 (pre-Covid!)
Over the last year, here are 5 things we've actioned to help make a difference:
1. Gender-blind parental leave - 26 weeks fully paid:

When we introduced gender-blind parental leave

, we believed it could genuinely make a positive impact, not just on the lives of our FundApper parents, but also within their family structures. We can't truly break the stereotype of women having to be the primary carer for a child if we don't also shatter the stereotype that men can't be. Likewise, statutory maternity and paternity leave creates unnecessary and damaging barriers to trans women parents. By being blind to circumstance and gender, we give all parents equal rights at FundApps.



2. 50% of our new hires in 2020 were women:

This is on the back of ensuring early recruitment shortlists are as balanced as possible, more diverse interview panels, re-writing parts of our job advertisements to encourage a broader pool of applicants, industry partnerships with organisations such as Work180, and only working with hiring partners who share our belief and commitment. FundApps sits at the intersection of finance and technology, so this work must be continual!
The ability to choose an office or home arrangement that works for you. From 5 days in the office, to 5 days at home, and anything in between. Whilst there is plenty of debate about the future of work and whether remote work is here to stay, we see employee choice as being at the heart of inclusion for all FundAppers.
4. Our financial support for charities increased:
For the third consecutive year, we've increased our community donations and put £70,000 behind some truly fantastic organisations in 2020, many of whom work to break down education, financial and social barriers that disproportionately affect young women across the globe.

These are available to any FundApper who may be a victim of family and domestic violence, including financial support, additional access to counselling and additional time off. Family and domestic violence affects 1 in 3 women globally and as a

B Corp

, we recognise the role our business must play to support people to seek a life free from violence.



We are always looking for ways to #raisethebar at FundApps, and will continue to foster inclusion in any way we can over the next 12 months and beyond. If you would like to join us on this journey then check out our available roles here!