We are celebrating our 8th birthday this month 🎉 🎂 🍻 🍰!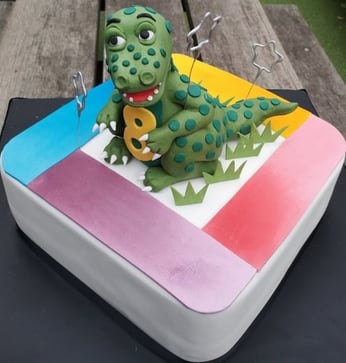 We got together with the whole FundApps family and of course there was cake!
It's given us the chance to look back over the last 8 years and see the amazing things we've accomplished; from our founder, Andrew White, coding from a South London bedroom to signing 7 new clients in August this year and applying for our B-Corp Certification!
FundApps in Numbers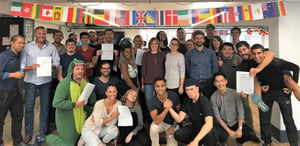 $6 trillion in AuM monitored every day
750+ users
400+ rules
95 jurisdictions
40+ clients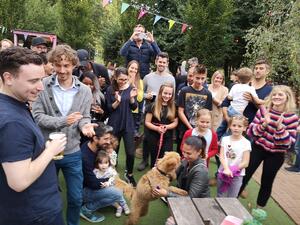 40+ FundAppers
20+ nationalities
3 full-time remote workers
FundApps Community
From signing our first client back in 2011 the FundApps Community has been growing steadily. Last month we signed up the same number of clients as we did in the whole of 2014! A testament to the fact that our clients love what we do is our NPS of 62.5 - which is supported by one of our key values, client happiness and providing exceptional client services.
Another key success is Rule Commentary, bringing together the community of compliance professionals by creating a platform to ask questions and have discussions about regulatory changes and rule interpretation. And of course our annual Client Conferences that we hold in both London and New York are a must-attend event for every FundApps client!
Another key milestone is our application submission to become a B-Corp! At the beginning of this year we did a baseline assessment and since then we've been working on different areas where we can improve for our people, clients, industry and society as a whole. Last week we hit the submission button to become B Corp certified 🙌👍👌
So, what about the Future?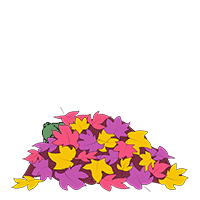 As Trevor is embracing the change in seasons we're getting ready to on-board and recruit more FundAppers into our Developers and Client Services. Both our Business Development and People Ops teams are busy attending several industry related events and our Content team is keeping busy with interpreting the latest regulatory changes such as the new short selling regime in Singapore - blog post to follow!
(Don't miss a thing: sign up to receive a monthly email with FundApps blog posts & industry news)
PS: Oh... and we'll be eating cake for the remainder of the year!