Picture this. You wake up, stumble to the kitchen in a fit of confusion and decaffeination, check your emails to catch up on anything you missed, and you read an email telling you that a super ambitious and challenging company goal you set for 2020 was just achieved. Madness!
We experienced this feeling a couple of weeks ago, and today we walked into work with warm, tingly feelings knowing we can FINALLY share with everyone that FundApps has been recognised as a B Corporation 'Best for the World' 2019 Honouree for the Workers (People) category.

In 2018, we made public our aspiration and journey to become a certified B Corp - a mission that has always resonated strongly with us to ensure FundApps stands as a force of good for our people, clients, communities and the environment. The great thing about the B Corp mission is that it's never been about just obtaining a certification, but rather our business and people constantly looking for ways to raise the bar and do good by all stakeholders in the company.
So as we considered what B Corp looks like at FundApps in 2019, 2020 and 2021 we set some ambitious targets that would really push us as a business - to become a 100+ point company, to be one of the Top 10 tech companies in the world and lastly, to be recognised by B corp as 'Best for the World' honouree in one of their categories - an aspiration which this year came true.
We received the B Corp certification in December with a score of 83.8 (the threshold being 80) and as of today we're hovering around the 92 points mark with some initiatives we have recently implemented. Staying true to our value of 'be transparent', we wanted to share how we performed in the Workers category for B Corp and what we did to achieve this score.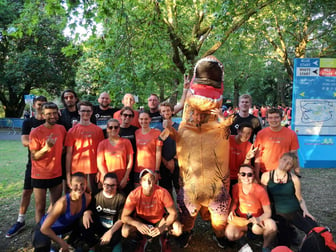 Our lowest wage is >25% of local living wage.
25 days vacation (plus local holidays), unlimited sick, professional development and volunteering leave, birthday off, and an extra day next year if you use all of your leave.
A bonus scheme tied to revenue growth to share in ou

r success.

Bi-annual compensation reviews and an average wage i

ncrease of 12% since the start of 2018.

Pension & superannuation plans with matched contributions.
A flexible wellbeing allowance for employees globally to financially support holistic health - FundAppers use it for everything from gym memberships, to meditation, to contact lenses and coaching sessions.
A free and confidential EAP service available globally to all FundAppers and their immediate families.
Regular team learning sessions covering everything from Finance and Health to Diversity and the humble Octopus. Not even joking with that last one.
£1,000 learning budget globally to use on any activities rela

ting to professional development with no approvals required.

100 Days at FundApps company onboarding plan
An internship programme in our engineering team with full

-time deployment opportunities.

Parental Leave 3.0 - 26 weeks' parental leave at full pay, regardless of gender, location, role or tenure.
Pulse check engagement surveys highlighting 85% engagement index and an Employee NPS of 60.
Anonymous peer feedback mechanisms using the Stop,

Start, Continue feedback model and the chance to specifically identify how we live our values day-to-day.

Peer bonus recognition platform tied to our values that enables points to be cashed out for gifts and donations.
Flexible working in action! Over 90% of FundAppers use flexible working, with no policy or approvals.
Team development and professional workshops - All FundAppers go through the Insights Discovery programme to build curiosity of working styles and preferences.
What's next?
We keep going! We're going to crack the 100 point milestone and keep looking for ways to get better. We're playing with some ideas at the moment for 2020 that would really allow us to raise the bar for our people, our community and the environment. From career pathways, rotations and mentorship to supporting victims of family violence and greater health benefits.
If you would like to become a FundApper click here to see our available roles, or here to speak to a member of the team!
Onwards!