Involving clients in the product development process is fun 🎉.
It requires some extra effort, but it can be very rewarding and forms a close relationship with your clients so that you can build a better product together.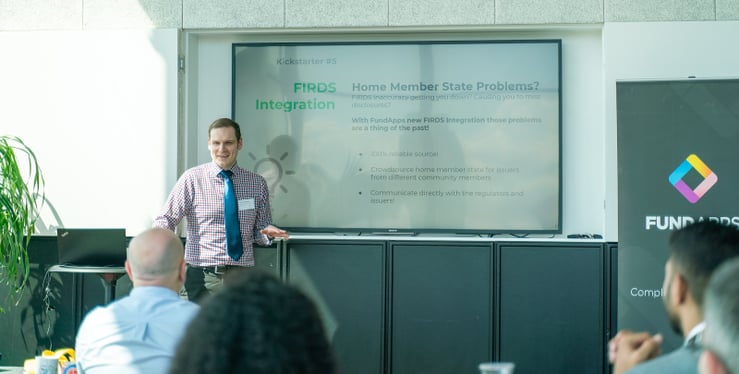 One of our clients presenting as part of our Product Workshop
The FundApps Client Conference is held annually and brings together representatives of our client base from all across the globe. At this year's Conference in London, the Design and Product teams ran two workshops ("Sailing to Compliance Nirvana" and "Kickstarter for Compliance") that not only helped us gather data on client pain points but also created learning opportunities for our clients and allowed them to become directly involved in our product development process.
Sailing to Compliance Nirvana
Using the framework from the innovation game "speedboat" we painted an analogous picture of our client's interactions with the FundApps platform:
"Imagine that the FundApps service is a boat, and it's trying to take you (the user) to the 'Compliance Nirvana' island, where your everyday job is easy and without stress."
The objective of the exercise was to get clients to talk about their paint points internal to the system ("anchors" holding back the boat) as well as functionality external to the system that would benefit clients if added to the platform ("gusts of wind" pushing the boat faster).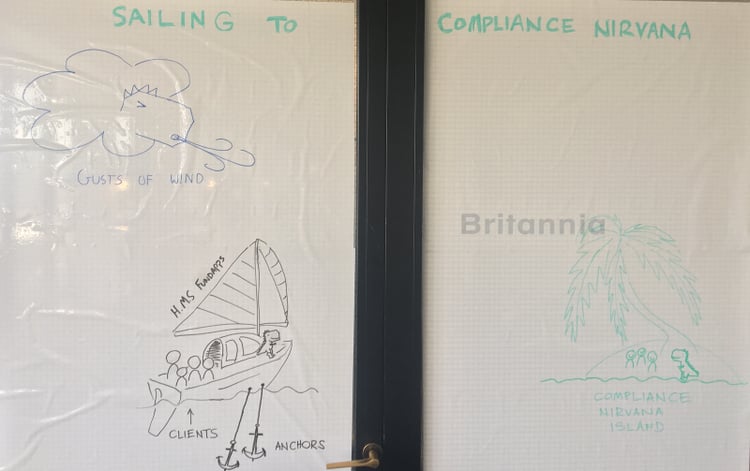 Sailing to Compliance Nirvana Diagram
We captured the information by asking clients to create post-it notes for each of their anchors and gusts of wind.
This exercise created an opportunity for clients to discuss their experiences using our products, and all participants commented that this learning opportunity was valuable to them.
Then our clients voted on which anchors and gusts of wind they considered most important for their company and day-to-day work. This both gave us useful data around the clients' needs and gave them a voice in our product management process.
Kickstarter for Compliance
The morning workshop with half our clients had given us data on two different important opportunities. Our next step was to combine these with three ideas of our own and get clients to vote on which of the five opportunities would be most valuable for them and their company.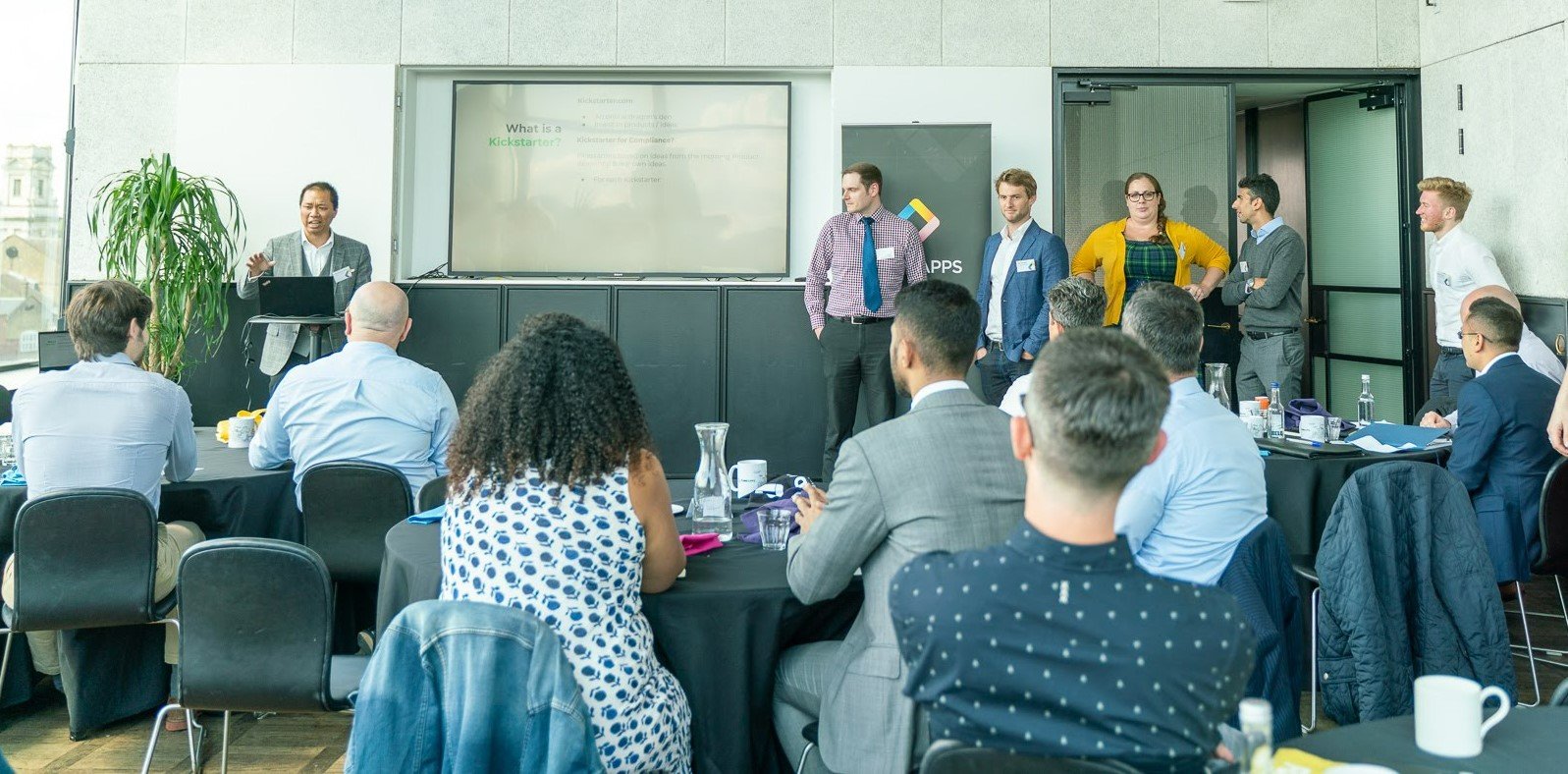 Team members trying to get clients to "invest" in their Kickstarter
To achieve this, four FundAppers (and one client we persuaded to participate 😁 - big thanks to Rob!) were each assigned an opportunity, which became their "Kickstarter" project. Their objective was to persuade clients during the workshop to invest "Dino Dollars" into their Kickstarter. The Kickstarter that got the most investment would in turn be the opportunity most valuable to our EU clients.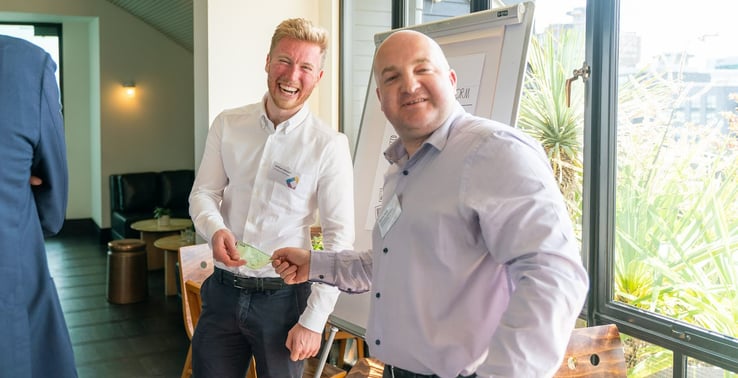 Dino Dollars used to invest in Kickstarters
The Dino Dollars had the name and company of the client who received them, which made it easier later on to track which clients invested in which Kickstarter, and furthermore use that data to infer interest in opportunities according to market segments.
After the Dino Dollars were handed out, the Kickstarters were pitched to the clients. Kickstarter promoters each stood by a booth with a poster describing their idea. Clients were encouraged to ask Kickstarter promoters questions as well as discuss with other clients what opportunities were best to invest in.
Once all clients had spent their Dino Dollars, these were tallied up and presented to the clients. The two workshops had identified for us the biggest pain point at the moment for our EU-based clients (the sourcing of Home Member State Data).
| | |
| --- | --- |
| Investment | Kickstarter ideas |
| $2,900.00 | Home member state integration |
| $2,400.00 | Market data integrations |
| $1,500.00 | Analytics platform and reporting |
| $1,200.00 | Automated data mapping |
| $200.00 | Templated rules |
The Kickstarter results
Beyond Kickstarter...
The workshop concluded with updating clients that the winning project was going to be added to our product roadmap, and that a special Kickstarter web page (only visible to clients) would be setup to track the progress of the project. Clients will be kept up-to-date via our newsletter, and once further progress has been made, a webinar will be organised to talk about how we tackled the project.
It is our hope that the workshops helped clients feel part of the product development process, and going forward, we aim to sustain that feeling of participation through the Kickstarter web page and other communications. Our clients based in North America will get the opportunity to participate in similar workshops at the New York Client Conference in October.
Want to get involved and join the FundApps Compliance Community? Get in touch!