TODAY...
On the delayed 08:23 Hampton Court to Waterloo, I observed the self-defeating psychological effect of commitment and consistency. Unusually, the train was not busy. Almost everyone had a seat, only a few stood in the aisles. Unbeknown to all, the doorway had become a testing ground for a psychological experiment I conceived through sheer boredom and mild annoyance that my seated journey had cost an extra two quid.
Whilst getting on the train, I had glanced down to see a shiny £2 coin. Spurred on by competition for a seat, I disregarded the coin and judged a comfortable journey to be worth more. At each stop, I watched people getting off the train. They saw the coin, stared at it, but got off without stopping to pick it up. Why?
Of course, £2 isn't a lot of money. It's a cup of coffee or a cheeky Pastel De Nata from WhiteCross Market. Maybe half a pint. It's better than nothing and certainly worth pausing to pick up, yet nobody did.
At Waterloo, the train terminated. Everyone got off. Everyone saw the coin. There were moments of hesitation, but nobody claimed it. I watched, I waited. I went back. I love those Pastel De Nata's!
Whilst eating my Portuguese custard tart, I wondered why nobody else had picked up the coin. I concluded that everyone had committed to getting off and had behaved consistently with social norms associated with travel in the capital. I imagined the thoughts of self-rationalisation, "I'm in a rush and don't want to be late"; "I might miss my stop"; "I don't want to be seen as somebody who needs to pick money up off the floor". Of course, all are platitudes to avoid cognitive dissonance, a feeling of discomfort which occurs when actions are not aligned with best interest. You're not going to miss the stop. Pausing is not going to make you any later and who exactly is looking at you anyway when you're getting off the train?
Intrigued by this force of self-persuasion, I considered how similar social circumstances can have bearing on my area of business interest, software sales. Seeking out and reading the research of Dr Robert Cialdini in his seminal work Influence: The Psychology of Persuasion, I formulated some thoughts.
The cost of software is the tip of the iceberg
Disregarding all other disadvantages, it is well founded, though not immediately apparent, that installed software is expensive. Cost typically goes beyond the obvious licence charge. As depicted in the "Tip of the Iceberg" diagram below, installed software has a raft of associated costs. The purchaser should consider the cost of hardware and additional software. She should consider the cost of training, the cost of implementation, the cost of support (during business times and out of hours), configuration, ongoing updates, testing. Many installed vendors even charge for new versions of the software and functional enhancements! The trickle of extra costs, unmentioned at the first point of sales contact goes on. Yet the concept of total cost of ownership (TCO) is not realised until the unlucky purchaser adds it up. Even if the purchaser realises that costs are increasing well beyond initial expectations and levels of comfort, there may be moments of hesitation, but the purchaser will often continue on their journey seemingly unable to stop. Sound familiar? Commitment and consistency. But how?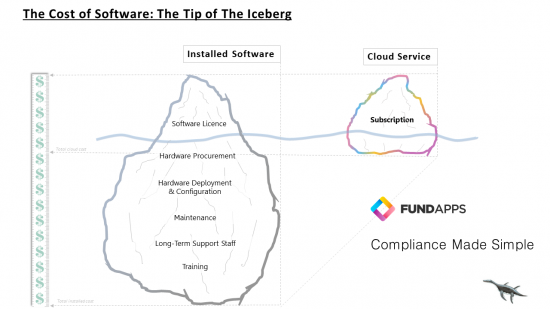 Consider unscrupulous car salesman who "low-ball" buyers. Such a sale is built on a buyer acting consistently with an initial commitment. In a "low-ball" sale, the buyer is offered a low price to gain commitment (the software licence cost). Then, the buyer gathers evidence to support the original reason for the purchase decision (proof of concept). "It's spacious, I like the colour, it drives well, and it has heated seats. Combined with the cost, it's a fantastic deal". Days later, just before the point of no return, the seller "realises" an accounting error and increases the price of the vehicle (contract negotiation). The buyer, though clearly disappointed, proceeds consistently with their original commitment. The new reasons created to rationalise their purchase now replace the original reason for the sale. "It's no longer cheap, but it's spacious, I like the colour, it drives well, and it has heated seats". The act of purchasing creates reasons for the sale as opposed to the reasons creating the original sale. Is this what happens with the hidden costs of installed software? An initial commitment cannot be overturned and unnecessary costs are absorbed by fabricated reasons of self-denial? "It's no longer cheap, but…"
Certainly, software deals have become so complex that firms have sought to protect business representatives from their own psychological biases by employing an impartial "anti-sales" guru; the dreaded procurement professional. Trained to resist influence techniques employed by software sales and marketing professionals, they work as the antithesis of a sales person, replacing friendliness with dead-pan dryness and a commitment to cut costs. The procurement officer will dissect deals, analysing TCO, seeking to reduce it, looking for commercial traps introduced by the seller. Often by the end of the process, the seller and the buyer are so disillusioned with the other that the nascent relationship requires care and attention. No wonder installed software vendors have parties and announce press releases just to celebrate go-live! How convoluted and wasteful. Not only is the installed software model broken, but the sales process to deliver it is broken too. Sales, like software, should be simple.
dOING THINGS DIFFERENTLY WITH sAAS
Today, cloud Software as a Service (SaaS) solutions are cost effective and come without hidden cost. Take our product Rapptr, we keep things simple and have one annual charge. There are no hidden extras. Our price represents total cost of ownership. It is simple and understood upfront prior to commitment. Implementation effort is throwaway and some clients complete go-live within two weeks of contract execution. If clients decided they do not like what we do post sale, they can cancel. We only rely upon one sales mechanism to elicit and maintain a consistent set of behaviours stemming from our clients original commitment; a superior software service.
In the burgeoning Fin Tech industry, how many new start-ups are developing installed software? None. It's outdated. Soon, procurement professionals will be outdated too as the typical sales process aligns with the new focus of the fin-tech industry, simply put, the development and delivery of excellent software products.
So next time you're getting off the train or buying software, pause before committing and following the crowd; There may be a delicious custard tart, or better software solution that's yours to claim.