"You're not like the kind of Account Managers that just take me out for a free lunch then fob me off to the technical team."
Be honest; how often do you see the words "dedicated Account Manager" listed as a perk during the sales cycle, and get that instant flashback to the last free lunch, or that time you had one too many drinks on the free tab? Whilst it makes for a great use of that Tuesday lunch hour, how frustrating is it to walk away from such "meetings" none the wiser, having made no progress?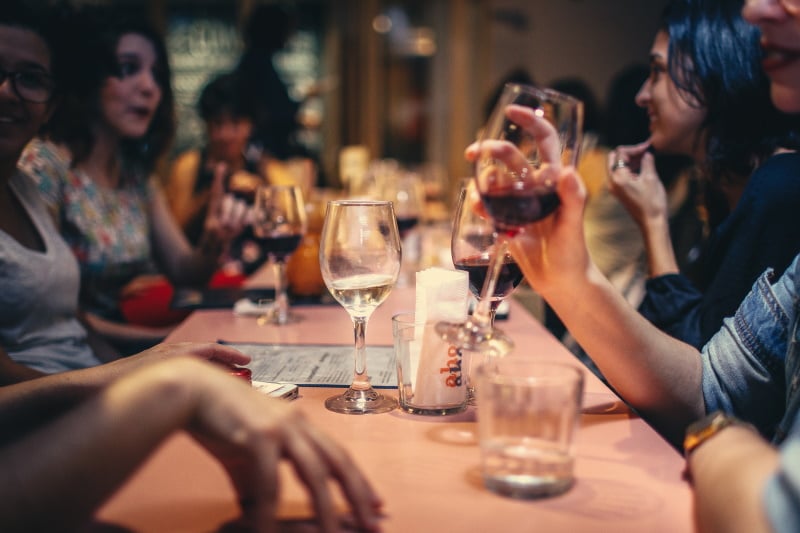 In many cases, Account Managers seem to serve as messengers for you within their company: relaying your queries or problems to another team before finally coming back to you with a response, or referring you to speak to another team yourself.
As a bootstrapped company, we've never been a fan of throwing money at a problem and hoping for a solution, whether that be in the form of fancy lunches or a technical team on speed dial. At FundApps, we do things differently, keeping compliance simple and fostering meaningful relationships as we get the job done. So how does account management work in a Compliance-as-a-Service (CaaS) company that has 99% retention, monitors over US$11 trillion worth of assets daily, and empowers a handful of Client Success Managers?
The popular book, "What they don't teach you at Harvard Law School", notes that one of the top tips for building long-term relationships is asking people about themselves, and then actually remembering these details.
Was that her son or his daughter starting school next week? You try to remember as you scroll through the endless notes in your CRM.
Building working relationships often starts with friendly anecdotes about children, hobbies, and pets, but the real lasting rapport comes from going deeper into the details: what is your favourite type of disclosure? What is your firm's corporate structure? Are you about to file in a new jurisdiction for the first time? Welcome to a day in the life of the FundApps Client Services Team.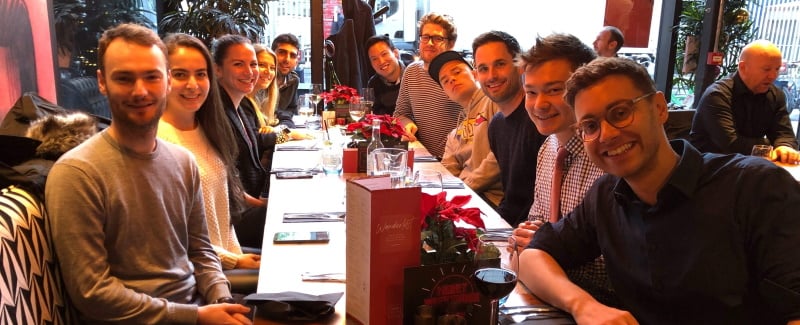 FundApps' Client Services team
Our Client Services team has the expertise to advise clients on disclosure requirements across 99 (and counting) jurisdictions. We delve into the various types of filings, their often confusing deadlines, and the highly varied relationships between holdings and the many entities in a firm's corporate structure. This runs the gamut from multinational banks to complicated hedge fund structures. Oh, and did we mention navigating XML files with our eyes closed?
Just in case you wanted to know what the secret is to our account management approach…
Each member of the team has built regulatory expertise (or what we like to call "Regspert" knowledge). They are specialists in the regulatory space and also understand many of the nuances of Shareholding Disclosure, Position Limits and Sensitive Industries. With over 60,000 deployments of the software, 99 jurisdictions covered, and 3 different services, that's a lot of knowledge to keep up with!
Our Client Success Team are all fully qualified in the FundApps Academy and have years of experience looking after clients just like you. With previous experience ranging from financial services roles or big 4 consultancy in investment banks. So, not only do they understand the system and disclosures inside out, but they also have a good foundation in understanding finance and your wider business.
Let's walk through some examples of what this means in practice:
Implementing a new system can be complex and overwhelming, especially with the realisation that you may not have been doing it right prior to finding FundApps; those dual listed securities are the main culprits! At FundApps, you have a dedicated CSM from the very beginning. From initial introductions through to a lifetime of compliance nirvana, they will be your point of contact for all things FundApps. From your operations team wanting to set up aspects of security like Single Sign On (SSO), to your data team navigating how to model assets like index derivative look throughs, to day-to-day users wondering how to change their notification settings, we've got you covered.
Going above and beyond is normal for any FundApper (one of our company values is #raise-the-bar) and it doesn't stop at our account management approach. Whether it's translating filing instructions in a local language (we collectively speak over 12 languages, including C# and Python), reaching out to regulators to understand when they will start using LEI codes, or giving you a call to let you know the compliance community responded to your question. We are passionate about your business and keeping compliance simple.
But that's just the beginning, our account management style is really about getting to know you, your business, and the compliance requirements you face. Your CSM will walk you through the aggregation complexities and considerations for jurisdictions you may have never traded in before. This will allow you to remain confident that we won't just set up your company in the way it's been done previously, just because, thus risking dangerous assumptions that could lead to non-compliance. We look at how regulation is applied, understanding the intricacies of holdings and corporate entity relationships to ensure we set the right foundations for compliance bliss. So, whether you're a boutique Hedge Fund that's just started to cross disclosure thresholds and need to quickly understand how to file in that jurisdiction you've never even visited, or you're one of the world's largest sovereign wealth funds that wants to automate disclosure forms, our CSMs are here to assist you.
Upon joining FundApps, we become advocates for you. We are passionate about action-oriented results, be that relying solely on the FundApps platform for disclosures or focusing on clear product enhancements that will improve your experience. We love providing opportunities for you to engage with our colleagues, contribute to the product roadmap, and aid the development of community networks in order to harness the power of community.
Fun Fact: our reporting offering, Rapportr, was a client idea that got built in just 3 weeks!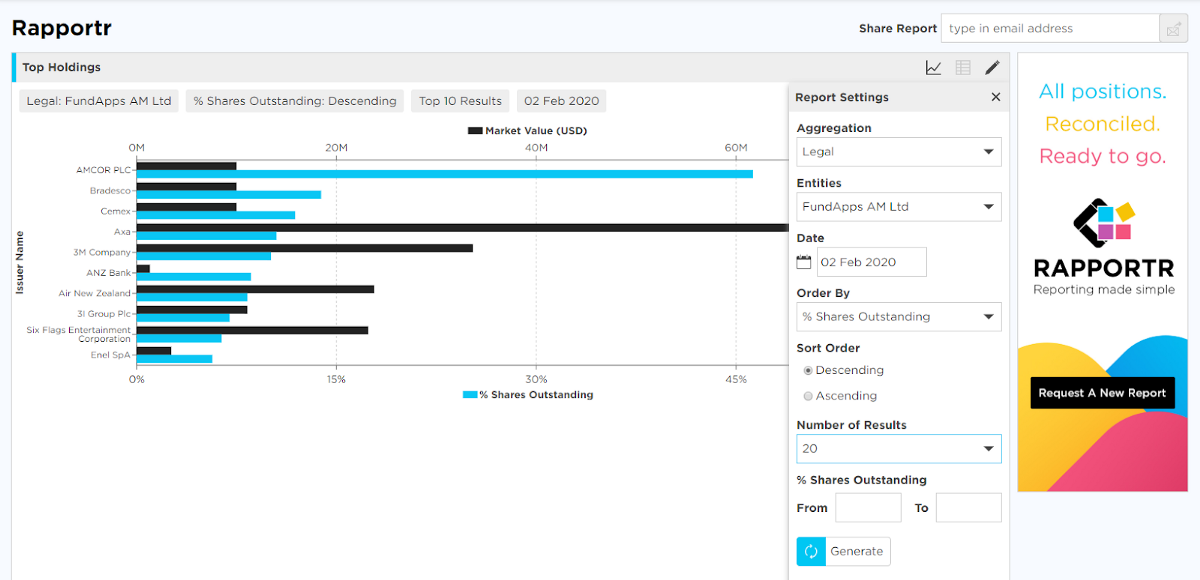 Screenshot of our Rapportr offering
Another one of our core values is to #do-more-with-less. It's important to us to constantly challenge the way things are done (#have-courage), and develop fresh ideas to solve existing problems. Our CSMs are core to internal engineering discussions and generating product ideas, serving as the voice of our clients and bringing your direct feedback to the forefront of conversations. This allows us to align FundApps' goals with your business goals. That's why we focus so heavily on ensuring everyone in the business understands how our clients work. As our CTO, Toby, puts it:
"Take time to learn about the product features and client workflows.[..] With a broader understanding of the product and how and why our clients use it, we can make better decisions about our work."
You would be surprised how many times that change you asked for was coded or deployed by your CSM.
In summary: we're not your average Account Managers scrolling through CRM notes of previous conversations before calling you. We are invested in you and in providing a uniquely tailored FundApps experience.
So, next time you're wondering if the sub-delegation of assets is important to the regulator in that new jurisdiction you've started to trade in, whilst putting your kids to sleep, get in touch! Not only will we be able to tell you in which jurisdictions this matters and by how many layers of delegation, we'll probably send you a toy of Trevor the dinosaur, our company mascot, to make sure you're not the only one in your household sleeping soundly at night.