As 2021 draws to a close and we get excited to kick off a new year, we're taking a moment to reflect on what we have achieved over the past 12 months 🥂

Scottish Equity Partners (SEP)

invested in us to fuel the RegTech revolution 🚀
We continued to grow our client base and now monitor over US $14 trillion 🎉
We now help 5 out of 10 of the world's largest hedge funds automate their regulatory compliance
We formed 6 new partnerships with best-in-class market data and technology providers, helping us to solve even more complex problems
We were named The Best Solution - Shareholding Disclosure in the Regulation Asia Awards for Excellence for the

second year running

We further enhanced the security of our services by becoming ISO 27001 certified


💡

New Product Features

ASIC Filing Manager
The Australian Securities & Investments Council (ASIC) requires their disclosure reports to be sent via Financial Information eXchange (FIX) protocol. This year we implemented a secure connection to ASIC FIX servers to facilitate the submission of short selling reports to the Australian regulator, directly from the FundApps platform.

Workflow of our ASIC Filing Manager
Adapptr - Integrated Market Data
In partnership with leading market data providers, such as Refinitiv and Bloomberg, Adapptr is a managed service that sources and maintains the market data needed for FundApps' Shareholding Disclosure service so you don't have to.
Position Limit Enhancements
Our team have been busy updating our Position Limit monitoring service this year, adding comments functionality to aid communication between teams, our exemptions feature also allows our clients to upload and maintain exemptions into our user interface, and our missing data tool allows our clients to resolve any data quality issues with speed and ease. More recently, we've been expanding our exchange coverage within our Position Limits service, adding 13 new exchanges.

Missing Data functionality in our Position Limits service
Room-in-a-Name for Sensitive Industries
When trading in sensitive industries, the thresholds are often tight, and the rules can be complex. This popular feature allows users to see how much can be traded before a disclosure has to be filed or a hard-stop limit has been reached.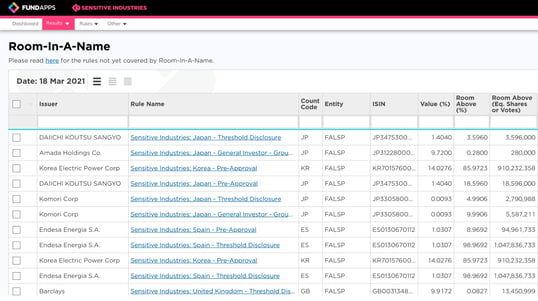 Room-In-A-Name for Sensitive Industries
Japan's FEFTA in Sensitive Industries
Governing disclosures in Japanese issuers, FEFTA is the latest and most complex addition to our Sensitive Industries rules package. Watch our short video to find out more or download our guide The Transformation of Foreign Investment Protectionism.
Global Company Database Public Filings Data
Our Global Company Database (GCD) now includes public filings data. By seeing that others have disclosed a certain company to the same country, you can be confident that you're filing to the correct regulator. And what's more, it's free to use!


🤝 New Partnerships

SimCorp: The integration of our Shareholding Disclosure service within SimCorp's integrated front-to-back investment management platform, SimCorp Dimension, means that we can now offer their 300+ clients seamless post-trade share ownership reporting capabilities.
Broadridge: Our services now directly integrate into Broadridge's portfolio and order management solution. Broadridge's clients now benefit from a unique regulatory compliance solution that addresses managers' needs across the monitoring and reporting of Shareholder Disclosure, Sensitive Industries and Position Limits.
Refinitiv: Their Shareholding Disclosure data is a primary source of security reference data used by many of the world's largest asset managers to support their disclosures processes. Through this partnership, users of our Shareholding Disclosure service can integrate their required data seamlessly.
And the new partnerships didn't end there! Head to our Partners page to find out more about our partnerships with FlexTrade Systems, Fund Recs and Optima Partners.
Continuing our B Corp mission
💚
We continued to honour our commitment as a B Corp throughout the year, whether that was through donating to charity, volunteering or investing in the wellbeing of FundAppers. Most notably, we:
Matched £20,000 in employee donations through

Tyve

- a platform automating charitable giving through pre-tax pay
Continued to do our bit for charity wherever possible, with our total donations for 2021 set to exceed last year's £70,000
Raised the bar on

diversity and inclusion

- recently reducing our gender pay gap to just 6%


What's next? 🚀
🙌 Direct connections with regulators: After the successful launch of our ASIC Filing Manager earlier this year, we've kicked off a project to create more direct filing connections with regulators around the world. This will enable all users of our Shareholding Disclosure service to submit their filings in just one click, directly from the FundApps platform.
🌎 CFTC's Final Rule: Earlier this year, the CFTC outlined their upcoming changes to position limit rules. The majority of these are set to take effect on the 1st January 2022. Our team is busy making sure that all of these changes will be reflected in our Position Limits service.
💛 We're continuing to grow: Check out the various opportunities we've got to join our London or New York teams.
🚀 And of course, new product features and partnerships! #watchThisSpace 👀

Looking for more content? Check out these popular blog posts:
5 Reasons Why You Are Missing Disclosures:

Here we highlight some of the most commonly overlooked aspects of Shareholding Disclosure monitoring and how they can lead to inaccurate disclosing - or worse - failure to disclose, risking regulatory fines and reputational damage for your firm.

Case Study: BennBridge:

A multi-boutique investment manager headquartered in London, BennBridge provides a holistic support framework for boutique investment teams. The firm began using FundApps' Shareholding Disclosure platform in 2019, when their rapid growth led them to look for a best-in-class solution with global rule coverage.
Permanent Lowering of ESMA's SSR Threshold:

Once again the European Securities and Markets Authority (ESMA), is proposing significant changes to the EU Short Selling Regulation (SSR). This change may lead to a higher volume of disclosures within this space.